Pendle Hill Greenhouse Project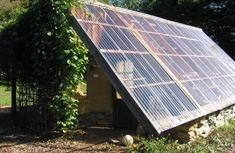 Pendle Hill built a permanent greenhouse for its organic garden. The greenhouse lets us extend the growing season and start seeds. But this building is more than just a practical resource; the structure and its construction also serve the spiritual and intellectual needs of Pendle Hill and the greater community.
Our goal was to build a greenhouse ourselves from locally harvested, recycled, and non-toxic materials. It has a stone foundation, cob and strawbale walls, and posts from hardwood trees culled from Pendle Hill's woods. This aesthetically pleasing low-tech building is functional, durable and inexpensive to maintain.
The environmentally friendly building techniques bear witness to our commitment to simplicity and mindfulness, and are a statement against the often environmentally destructive, needlessly extravagant, and overly expensive building practices in our society. We hope this project showcases the feasibility of environmentally-friendly building techniques in the Philadelphia area.