Friends in Residence
Year after year, we are so grateful for Friends who step away from their lives elsewhere to live with us in community as Friends in Residence (FiRs) for a term or longer. They serve in a variety of capacities – working on the grounds, helping with hospitality – and are generally welcoming presences providing ears for deep listening for sojourners, guests, and staff. We are so thankful for the grounding presence they provide for all of us in spirit-led service.
Click here to view the Friend-in-Residence position description. Click to view the Friends-in-Residency application.
Most Recent FiRs (FY2019-2020)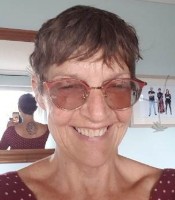 Katrina McCrea has been active as a Quaker since 2003 in two meetings and has interacted at local, regional, and yearly meeting levels. She has been a regular Friend in Residence at Woodbrooke (Birmingham, U.K.) since 2004 and is a graduate of the Equipping for Ministry (2014-2016) course held there. She is currently the Local Meeting treasurer. Katrina has a son and daughter, three granddaughters (15, 14 and 12) and a grandson (under a year old).
She loves to travel and has visited several countries including Bali, Israel, Morocco, Mexico, Peru, and Trinidad. Her talents include being a fully qualified Massage therapist and speaking passable German. Katrina's hobbies include sewing, knitting, crocheting, walking, cycling, cinema, reading, and listening to music.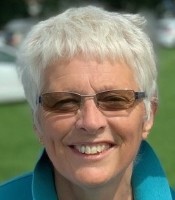 Maureen "Mo" O'Ryan is a Member of Hebden Bridge Local Meeting, which is about 15 miles away from Pendle Hill 1652 country in Lancashire, U.K. Before coming to Quakers in 2007, she spent six months in Madagascar as a volunteer teaching English. In 2016, she also completed the Equipping for Ministry course at Woodbrooke. At present, Mo is part of her LM Nominations group and has also served as an Overseer and Quaker Life Rep. She has volunteered at Woodbrooke regularly as a Friend in Residence since 2016.
Mo's hobbies include running, mainly 5K and sometimes 10K, at her local parkrun where she also volunteers marshaling or recording times. She is also learning to play the cornet and enjoy quizzes with her friends.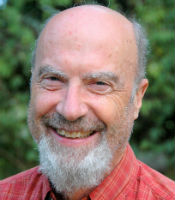 Doug Gwyn is a Quaker scholar and author. His "biography" of Pendle Hill, Personality and Place: The Life and Times of Pendle Hill, was published in 2014. Formerly the Quaker Studies teacher at Pendle Hill, Doug is a well-traveled Friend. He has worked for the American Friends Service Committee and served among Friends as a pastor and as a teacher at the Woodbrooke Quaker Study Centre in Birmingham, England, as well as at Pendle Hill.
Doug has written several books and articles on early Friends. Among his recent works are A Sustainable Life: Quaker Faith and Practice in the Renewal of Creation (2014), The Anti-War: Peace Finds the Purpose of a Peculiar People (2016), and The Call to Radical Faithfulness: Covenant in Quaker Experience (2017). Doug lives in Richmond, IN, where he is a member of First Friends Meeting.