The Library at Pendle Hill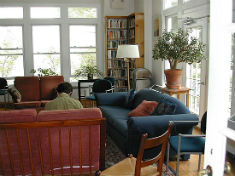 Pendle Hill's 12,000 volume library is open 24 hours, except when classes or meetings are in session. Comfortable armchairs are available for reading. The collection is especially strong in Quakerism, religion, and peace and justice themes. Browsers will also find a disparate assortment of fiction titles.
The library is located in Firbank on the same floor as the art studio.