Spiritual Life
Pendle Hill offers many ways to deepen your spiritual life and refresh your spirit.
Meeting for Worship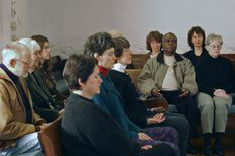 Daily life at Pendle Hill is centered in our morning meeting for worship in the manner of Friends (Quakers). This half-hour silent gathering may be enriched by spoken ministry as the Spirit moves those present. In this expectant listening for God, people of different faiths often find that Divine Presence which weaves all life together. Worship takes place at other times too – before meals, at classes, and at other gatherings – so that worship supports all of community life. We see every part of life at Pendle Hill – classes, kitchen work, gardening, yoga sessions, community gatherings and more – as a way to grow spiritually and find inner refreshment and peace.  Read more about Worship at Pendle Hill.
Spiritual Nurture
To encourage and strengthen the life of the Spirit and the programmatic experience of our sojourners, every sojourner is paired with a member of staff who serves as spiritual nurturer. Spiritual nurturers are not counselors; rather, they are supportive companions to the sojourner's experience. The spiritual nurturer and the sojourner meet for one hour each week. This is a time of deep listening which may include worship, Spirit-led dialogue, journaling (or other creative process), or simply conversation related to the sojourner's time here. These meetings help in reviewing experiences and in making progress toward the individual's personal goals.
Friends in Residence
Each year Pendle Hill hosts Friends in Residence who are present throughout the year and provide support and guidance founded on their long experience in the Religious Society of Friends. The company of these seasoned Friends adds a special dimension to the community's understanding of what it means to be a Quaker.
Learn more: Friends in Residence
Media Prayer Shawl Ministry
Second Thursdays, 7-9pm, in Waysmeet
Learn to knit or crochet handmade items for those in need of prayer. All are welcome. Supplies provided. No skill or experience necessary.