Continuing Revolution 2022: Experiments in Spiritually Grounded Abolition
June 3 – 7, 2022: on-campus and online via Zoom
Pendle Hill's annual conference for young adults (ages 18-35)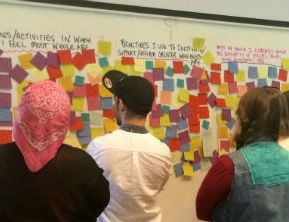 On-campus resident full-time (June 3-7): $50
Registration Deadline: May 25, 2022 for on-campus participants. Sign-ups for online participation open until June 3.
On-campus resident weekend-only (June 3-5): $25
Commuter daily attendance: $10/day
Online: pay-as-led
Significant financial assistance is available. Please see below for more details on fees.

To apply, click here.
---
Continuing Revolution is a space of collective exploration and learning for spiritually curious young adults who are striving to live in ways that reflect their values. We welcome those who are seeking to examine the connections between their spiritual, political, and interpersonal lives.
---
Theme
Young adult Friends and seekers (ages 18-35) will gather both online and at Pendle Hill to build community with others exploring abolition. Together we will experiment with seeds of alternative systems as we strive to live in integrity with our core values.
This year's programming is guided by Mariame Kaba's understanding of abolition as "a vision of a restructured society where we have everything that we need to live dignified lives." Kaba notes that "abolition" is not a static or singular thing; the word is used by people of various political persuasions and imaginations, who "want to eliminate prisons, policing, and surveillance, and . . . want to create true safety, health, and well-being instead."
We will learn collectively from the history of organizing around abolition and the tools, strategies, and processes that contemporary groups are using in local, national, and interpersonal communities to put these systems into practice. We'll engage in exercises in spiritual grounding and workshops with peers as we grapple with the specifics of the ideas and backgrounds each participant brings to the conference. Come to Continuing Revolution 2022 to support and be supported in learning to make decisions that reflect your values and hopes for the building of abolitionist futures. Enjoy opportunities for reflection, sharing, worship, and skill-building with other young adults from a wide range of backgrounds and experiences in the nurturing environment of Pendle Hill, either online or in person.
Schedule *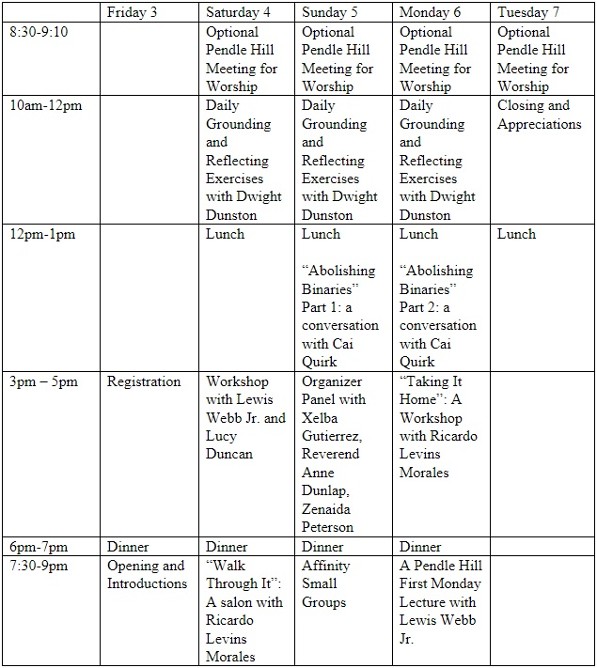 Walk Toward It with Ricardo Levins Morales
Drawing on threads from movement history, the natural world, and concepts of personal and collective healing, we will explore both the possibilities for, and the obstacles to, deep social transformation. In a time of political uncertainty and increasing impacts of climate change, it can be hard to know where we fit in or how to think about the future. Acknowledging the hard stuff – the grief, fear, hopelessness, and confusion that undermine our confidence – can help us find the grounding clarity with which to navigate a rapidly changing landscape.
Taking it Home with Ricardo Levins Morales
We will apply the principles introduced in "Walk Toward It" to integrate and process the insights, doubts, and questions raised during the conference and follow whatever scent trails emerge. This workshop will be conversational, with the goal of sending you home (or wherever is next for you) eager to test some new ideas.
* Details on the schedule and workshops are being added continuously!
Program Details
For a list of program and workshop descriptions, click here.

Why hybrid?
We are striving to make Continuing Revolution's programming accessible in light of the COVID-19 pandemic and will be offering opportunities for both on-campus and online participation. For folks coming to campus, Pendle Hill requires proof of full vaccination against COVID-19 or proof of negative results from a PCR test taken within 72 hours of arrival on campus. Boosters are not required but are strongly encouraged. Pendle Hill staff are monitoring information about boosters and their impact on the pandemic closely to inform any changes in policy or protocol that may be needed. Please see the COVID policy FAQs for more information.
Conference Fees and Financial Aid
We are excited to make Continuing Revolution more financially accessible this year with subsidized on-campus rates and pay-as-led online participation. When registering as an on-campus participant, please take into account our limited campus capacity: we invite you to consider the arrangements we make regarding room and board accommodations on an individual basis and consider an on-campus resident registration as a commitment to attending the conference.
Resident fees include room and board; daily commuter attendance fees include lunch and dinner.
On-campus resident full-time (Jun 3-7): $50
On-campus resident weekend-only (Jun 3-5): $25
Commuter daily attendance: $10/day
Online: pay-as-led
Significant financial assistance is available for this conference. If you are seeking financial assistance, please click on the link for our Financial Assistance application form below.
Leader(s)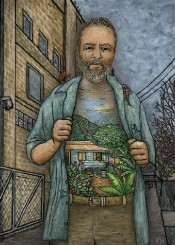 Ricardo Levins Morales is an artist and organizer based in Minneapolis. He considers his art political medicine to support individual and collective healing from the injuries and ongoing reality of oppression. He was born into the anti-colonial movement in Puerto Rico and was drawn into activism in Chicago when his family moved there in 1967. This began with the Black Panther Defense Committee and has included organizing for labor, racial justice, and environmental struggles. Find Ricardo's work at https://www.rlmartstudio.com/.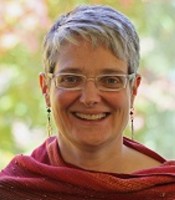 Lucy Duncan served as director of Friends Relations for AFSC from August 2011 until January 2022. She writes, teaches, and organizes Quakers to work for justice. She recently published "A Quaker call to abolition and creation" in Friends Journal and organized last year's AFSC annual meeting program, Making New Worlds: Pursuing Peace With Justice, all sessions of which are available to watch online. She has been instrumental in the adaptation of Quaker social change ministry as a tool for reclaiming Spirit-guided social change work focused on companioning those most impacted by injustice and was a lead co-facilitator for Radical Acting in Faith for white people. She is currently the co-chair of the Philadelphia Mayor's Commission on Faith-Based and Interfaith Affairs. She has been a storyteller for over twenty years and has worked with Quaker meetings on telling both stories for racial justice and stories of spiritual experience. Before working for AFSC, Lucy was director of communications at FGC, managed QuakerBooks of FGC, owned and managed her own children's bookstore in Omaha, The Story Monkey, and was a member of a storytelling troupe, the Five Bright Chicks. She is a member of Green Street Friends Meeting (PhYM) and is the proud mom of a 19-year-old son.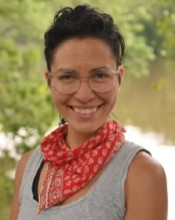 Xelba Gutierrez (they/she) is a queer immigrant community organizer, educator, and facilitator made of fierce indignation and gentle compassion. They were born in Venezuela from revolutionary parents, and spent formative years in Santiago, Chile and Miami, San Francisco, Asheville, and Philadelphia in the United States. Xelba is seeker of connection-building radical community, and they are passionate about challenging systems and having hard conversations about decolonizing and unlearning harmful frameworks. They firmly believe that there is a world without prisons, borders, and police in our future and are happy to join conversations about the transformation and experimentation needed to get us there.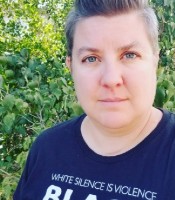 Rev. Anne Dunlap is the Faith Organizing Coordinator for Standing Up for Racial Justice (SURJ). Nurtured into faith-rooted organizing in the Central America solidarity movement in the 1980s, Anne is particularly grateful to the Central American, Black, immigrant, worker, and indigenous leaders who have challenged and taught her to think and act more deeply about what it means to be human and what it means to be free. Anne is an ordained minister in the United Church of Christ and the founder of FierceRev Remedies, offering herbal consults, workshops, and mentorship, as well as consulting, teaching, and preaching, all towards the goal of racial justice and collective liberation rooted in healing practice with the land. She is currently co-editing a book on congregational organizing and led the creation of the SURJ-Faith Community Safety for All: #DefundPolice Congregational Action Toolkit. She is proud to be from Arkansas and is now happy to call Buffalo, NY home. Anne loves life with her beloved and their kitty, herbcrafting, long nature rambles, snuggling baby goats, loving on her people, music, books, poetry, and building community.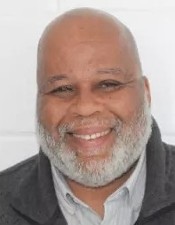 Lewis Webb, Jr. serves as Healing Justice Program Director in AFSC's New York Office and National Coordinator of AFSC Healing Justice Network. After graduating from law school, Lewis has dedicated his entire professional career to criminal justice issues. At AFSC, Lewis focuses his work on decreasing New York's prison population by mitigating paths to incarceration and increasing opportunities for release through sentencing and parole reform. He is widely recognized as an expert on the school-to-prison pipeline, barriers to successful reentry, engaging communities of faith and cultivating young activists.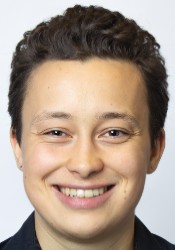 Cai Quirk (they/them or ey/em) is a lifelong Quaker with passions for Witness, personal discernment, and diverse methods of spiritual deepening. With a gender that transcends binaries, Cai is practiced at deeply questioning societal expectations and norms and in shifting towards roots of individual and group integrity. Spiritual deepening, Witness, and integrity are expanded in Cai's music and photography practices.
Their photography series 'Transcendence' connects themes of spirituality, mythology, and gender diversity as related to global and timeless patterns. See more at caiquirk.com.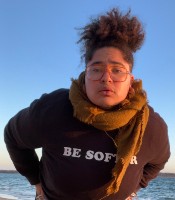 Zenaida Peterson is a friend, community member, and seeker from the south who has been transplanted to Boston, MA. They are learning what it means to live and be kinder through nature connection, writing poems, and working as the Boston Coordinator and the Director of Equity and Empowerment for Quaker Voluntary Service. Zenaida named themselves in the womb and continues that naming by calling themselves Black and Queer and non-binary. They are an emerging astrologer and tarot reader. Zenaida has competed with and coached poetry at CUPSI, Rust Belt, the National Poetry Slam, placing in the top ten each time and winning the last chance slam at Women of the World Poetry Slam. You can find their work at Pizza Pi Press, Button Poetry, and Slam Find.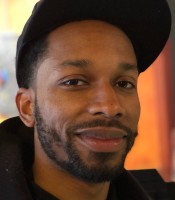 Dwight Dunston aka Duns is a West Philly-based facilitator, hip-hop artist, educator, and activist with roots in the Carolinas and deeper roots in West Africa. His passions/gifts include supporting folks to tap into their super powers and supporting communities to develop the tools, skills, and techniques to stay connected across different identities.
Most recently Dwight served as the Coordinator of Equity and Justice Education at Friends Central School where he also coached track and field and co-developed two courses in the Literature department on the Black experience in 20th century America and exploring the meaning of love and community in the anthropocene. He is a trainer with AORTA (Anti-Oppression Resource and Training Alliance) and also a trainer and Relationship Manager with Lion's Story, a Philadelphia based org that uses Dr. Howard Stevenson's theory on racial literacy to support individuals to develop skills in navigating racially stressful encounters. In 2020, Dwight co-led a 5-week project on Black + Asian Solidarity with 25 folks across the country and in 2021 co-led a 4-part series on Black Healing Spaces with his older sister. These two experiences have inspired him at this point in his life to deeply explore themes of solidarity, forgiveness, grief, rage, and joy in his art, conversations, and spiritual practices. As an artist, he is a founding member of the nine-piece hip-hop group Hardwork Movement and the musical group City Love, and has performed at schools, venues, and festivals across the country, sharing the stage with Questlove, Talib Kweli, Michelle Alexander, Jonathon Kozol, and many others.
Continuing Revolution Coordinators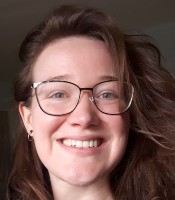 Lina Blount is an organizer, trainer, and nonviolent action strategist who has been working on environmental justice campaigns in the Philadelphia area for over ten years. Lina currently works as the Education Coordinator for Pendle Hill and just rotated off as co-clerk of the Earth Quaker Action Team (EQAT) board, which she has served since 2013. Lina has also worked with the Divestment Student Network and spent two years as a canvass director and anti-fracking organizer in Pennsylvania.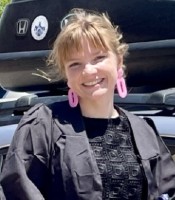 Anna Hill is a member of the 2021-2022 Philadelphia cohort of Quaker Voluntary Service (QVS) Fellows. QVS is a year-long program during which fellows live in intentional community with one another, engage in spiritual exploration, and serve in a nonprofit. This year, Anna is serving at Pendle Hill with their education team and has supported program development, coordination, and outreach. Anna holds a B.A. in English from Colorado College, where she worked as an editor for Cipher, a magazine specializing in long form creative nonfiction.
About Campus
Pendle Hill is located on 24 beautiful acres with a mile-long woodchip trail, a pond, and 140 species of trees and flowering shrubs, on the historical homeland of the Lenni Lenape. Participants will have access to the art studio, library, and the grounds. Eating together as a community is an important part of life at Pendle Hill. Most food served, including bread and other staples, is made from scratch. Pendle Hill makes extensive use of organic fruits and vegetables from the garden. All meals include vegan and vegetarian options and can be customized for specific dietary needs.
---
Financial aid may be available. If you are seeking funds to participate in this program, click to review and complete our Financial Assistance Application and a Pendle Hill staff member will follow-up with you shortly (please do NOT register online). Thank you for your interest.
---
Travel directions to Pendle Hill.