Save the Dates!
MAY 3-6, 2018
TRUTH AND HEALING: Quakers Seeking Right Relationship with Indigenous Peoples
A Pendle Hill Conference for inspiration, education, networking, discernment, and action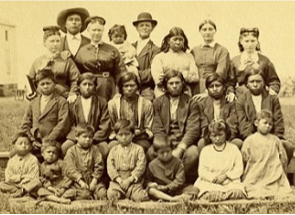 Both Canada and the United States of America are built on the so-called Christian Doctrine of Discovery, which purports to justify the theft of land and resources and the enslavement or destruction of many Nations. As descendants of European settlers, Quakers benefitted and benefit from this history. Even when well-intentioned, Quakers often played a paternalistic role with Indigenous Peoples, and US Quakers ran Indian Boarding Schools, enterprises designed to erase Indian language and culture from Native youth – "Kill the Indian . . . Save the Man."
As Friends, we rarely talk about our continuing benefit from this history or about our roles as invasive peoples on what the Original Peoples of this land called Turtle Island.
We invite Quakers from throughout Canada and the United States to gather at Pendle Hill to meet together with Indigenous people, to hear truth spoken plainly, to listen deeply with open hearts and minds, and to seek together ways of acknowledging ongoing and intergenerational injuries, owning responsibility, and repairing injustice as Spirit guides us.
Come to be inspired, to become better equipped to involve Meetings and local communities in building right relationship, and to be renewed in Spirit and energy for this long-term justice journey.
Travel directions to Pendle Hill. Click to view the flyer. For more information, contact mayconference@pendlehill.org.