Shirley Dodson has been guiding and caring for Pendle Hill pamphlets through a variety of roles over the past decade.
What are Pendle Hill pamphlets?  The Pendle Hill pamphlets are brief essays which express Quaker perspectives on themes of contemporary importance. Each pamphlet grows from the writer's spiritual experience, concern, or special knowledge of a theme, and each is around 36 pages long – a good length to read at one seating. Every essay has a message that is important now and is expected to be important in the future as well – the pamphlets have a long shelf life. Many of the pamphlets include deep sharing by the authors concerning the experiential roots of their concerns – why it matters so much to them.
How did Pendle Hill pamphlets get started? According to Doug Gwyn's Personality and Place: The Life and Times of Pendle Hill (p. 59), Douglas Steere suggested the idea in 1933, later noting "The time had come for Pendle Hill to issue a stream of pamphlets that would interpret the living genius of Quakerism to the needs of our time." The first pamphlet, Vincent Nicholson's Cooperation and Coercion as Methods of Social Change, was published in 1934. We just published our 443rd pamphlet.
Who writes Pendle Hill pamphlets? Pamphlets today are written by Quakers who have something significant to say on matters of importance to Friends and others. Some pamphlet authors have written many books, while others have never had their writing published before.  Pamphlet authors include Parker Palmer, Howard Thurman, A. J. Muste, Sandra Cronk, Marcelle Martin, John Yungblut, Thomas Kelly, Fritz Eichenberg, Valerie Brown, Bill Taber, Rex Ambler, Steve Chase, Doug Gwyn, and many others.
How are pamphlets chosen?  The selection process is described here.  The Pamphlets Working Group makes the decision about which manuscripts to publish through a remarkable discernment process. This process is blind – Pamphlets Working Group members are not informed who the authors are – helping to ensure that manuscripts are selected based on their quality and message rather than the reputation of the author.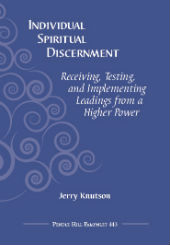 What topics are pamphlets about?  There's a great variety of themes. This month's pamphlet is a practical piece on individual spiritual discernment – a "how-to."  Themes of pamphlets published during the last few years include, among others, reconciliation (where it doesn't seem possible), who is Jesus? becoming a vegan, the Quaker spiritual path, the Song of Songs, travel in the ministry, finding metaphors for the spiritual journey, the suicide of a loved one, radical faithfulness, the Light Within, process theology, and nonviolent direct action as a spiritual path – all written from rootedness in Quaker spiritual concern.
What is your hope for Pendle Hill pamphlets in the future?  I would love to get more manuscripts from younger and newer writers as well as seasoned authors.  You don't need to be a polished author to submit a manuscript. What's most important is that you have something compelling to say from a Quaker perspective that can best be said in about 9000 words. Another hope: Volunteer Jim Rose has been turning pamphlets into electronic publications that are available for the Kindle and Nook; I look forward to seeing the great majority of our pamphlets available in that format.  And there are some themes that I would very much like to see addressed or re-addressed from a contemporary perspective: the essence of Quakerism, meeting for business, how to communicate with people we disagree with, what do Quakers believe, and what do we most need to be saying and doing in this present time?
What is your advice to someone considering writing a pamphlet?  First, read the guidelines. Ask yourself, do I have something to say that grows from spiritual concern, that I feel compelled to write, that pamphlet readers really need to know?  Don't write a manuscript because you want to have a Pendle Hill pamphlet to your credit – that motivation usually makes for dull reading.  And consider whether what you have to say would work best as a pamphlet or in another medium, such as a blog; an article in Friends Journal, Quaker History, or another publication; or as a book, possibly self-published. Ultimately, if you believe you have a pamphlet's worth of a message inside you, go for it!
Subscribe to our pamphlet series and you will receive a new pamphlet once every other month (six pamphlets per year), delivered to your mailbox. Pamphlets and pamphlet subscriptions also make great gifts! Order online, e-mail pamphlets@pendlehill.org, or call 610-566-4507, ext. 124.
More than 50% of our classic pamphlets are now available in eBook form for Nook Book and Kindle e-readers. Latest availability can be found online at barnesandnoble.com and amazon.com.