Called to faithful action for peace, social justice, and sustainability?
Tired of missing the mark and getting stuck?
Want to work more effectively with others for positive change?
Ready to learn more about nonviolent action and grassroots organizing?
If so, check out Pendle Hill's
Radical Faithfulness Program
An Intensive 9-Month Online/On-Campus Program
on Spiritual Activism and Faith-Based Organizing
(with five on-campus residencies)
From September 26, 2016 to May 22, 2017
Pendle Hill's Radical Faithfulness Program will bring together an interfaith group of learners committed to deepening their capacity for effective spiritual activism and grassroots organizing to heal and repair the world. If you join this extended education program you will:
Explore the spiritual call to working with our neighbors for social justice, peace, and sustainability;
Reach greater clarity on where your gifts and passions match the world's needs;
Experiment with spiritual practices that sustain you over time and help you rise above denial, despair, and distraction;
Gain greater knowledge and skill in effective nonviolent direct action campaigns and community organizing;
Learn to tap the power of diversity, justice, and inclusion in your social change work; and
Give and receive mutual support on applied fieldwork projects in your communities.
You will benefit from a structured curriculum, a cutting-edge blend of face-to-face and online learning, and the ongoing support and guidance of an experienced core and adjunct faculty.
Apply Today! Several scholarships are available for people in financial need. For more information, click on the links below, or contact Steve Chase, Director of Education, at 610-566-4507, ext. 123.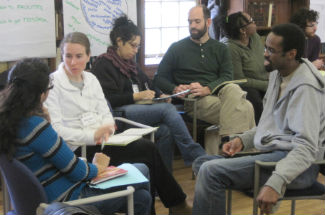 Who Should Participate?
What Students Say
Program Learning Objectives
Core Components of the Program
Program Schedule and Themes
Educational Philosophy
A Word About Online Learning
Program Costs and Scholarships
Program Faculty
Applying to the Program