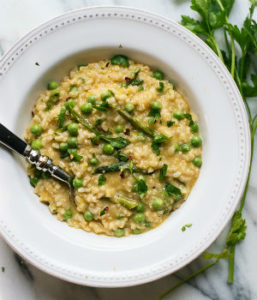 Ingredients:
2 tablespoons olive oil
2 cups leeks (white and light green parts only), sliced and washed well
1 tablespoon garlic, freshly grated or minced (from 2-3 large cloves)
1 1/4 cups Arborio rice
1 teaspoon fine sea salt, divided in half
1/2 cup white wine (or use 2-3 tablespoons of lemon juice and enough water to make 1/2 cup)
4 cups vegetable stock
2 cups water
1/2 cup baby peas, frozen or fresh
1 cup Roasted Asparagus cut into 1-inch diagonals + extra for garnish
1/4 cup fresh herbs, chopped (I used basil and parsley)
Optional: 1/4 teaspoon red pepper flakes, juice of half a lemon, fresh ground pepper, fresh herbs
Instructions:
Heat vegetable stock and water in a sauce pot over medium-low heat until just about a simmer. Adjust the heat, if needed, to keep the stock at just about a simmer for the entire cooking time.
Heat olive oil in a heavy-bottom skillet or Dutch oven over medium-heat. Cook the leeks until just before brown. Add garlic and 1/2 teaspoon of salt to the pan and cook until the garlic is fragrant, about 1 minute.
When garlic is fragrant, add the rice to the pan. Toast the rice while stirring frequently for a minute or so until lightly browned. Add the white wine or lemon juice mixture to the pan, being sure to release any browned bits stuck to the bottom of the pan. Cook the rice in the wine, stirring almost constantly, until the wine has been absorbed.
When the wine is absorbed, add a ladle of stock to the pan (about 1/4-1/3 cup at a time), stirring almost constantly until the stock is absorbed. Then add another ladle.
Continue to add stock gradually, stirring until all but a single ladle of stock remains and the rice is just about tender and super creamy. This will take about 25-30 minutes.
When you add the last ladle of stock, add the peas, asparagus, herbs and the remaining 1/2 teaspoon of salt to the pan continuing to stir until the last stock is absorbed.
Remove the pan from the heat. Stir in the red pepper flakes, lemon juice, and fresh ground pepper, if using. Season with additional salt if needed.
Serve immediately and garnish with lots of roasted asparagus and some fresh herbs (chives, basil, or parsley).