This recipe is a favorite with the Pendle Hill lunch crowd. Makes a pan, enough to serve between 10 and 15.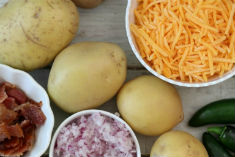 • 2 tablespoons butter
• 2 large green chilies, diced
• 2 jalapenos, finely diced
• 1 poblano chili, diced
• 2 onions, diced
• 4 pounds diced potatoes (can be pre-diced and frozen)
• Salt and ground pepper
• 2 cups grated sharp Cheddar
• 2 cups grated Mozzarella
• 8 slices bacon, fried and chopped
Preheat the oven to 375 degrees F.
Melt the butter in a large skillet and saute the chilies and onions until browned, almost blackened. Add the potatoes, some salt and pepper and toss together. Tip into a buttered baking dish and top with the cheese and bacon. Bake until hot and bubbly, about 30 minutes.