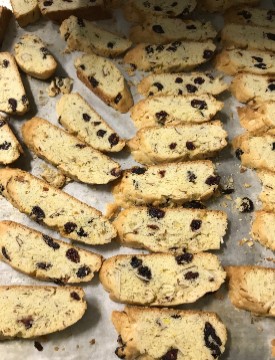 Carol has been making a lot of these lately. And they're delicious! You should pre-heat the oven to 325° and lightly grease a baking sheet before diving in. This recipe makes approximately 40 yummy biscotti.
1 cup butter, softened
2 cups sugar
4 large eggs
1 tsp salt
1T vanilla
1 tsp almond extract
5 cups all purpose flour
1 T baking powder
1 T orange zest (optional)
¼ tsp orange extract (optional)
2 cups dried cranberries
2 cups sliced almonds
~ Cream the butter, sugar, eggs, vanilla, almond extract, orange (if using) in a food processor or mixer.
~ In a separate large bowl, stir together the flour and baking powder. Add the creamed ingredients to the flour mixture and stir until combined. Add the almonds and cranberries and mix to incorporate.
~ Using a #20 scoop (this just makes it easier; use any scoop you have or just use your hands), scoop out balls of batter and place on the cookie sheet very close to each other. Make two rows spaced about 4 inches apart (the dough will spread when baking). Carol usually presses the dough balls together then smooths them out with slightly wet hands to form two long logs.
~ Bake until firm and a little golden, about 25-30 minutes. Let cool completely.
~ When cool, using a sharp knife, cut individual biscotti about 1 inch wide (whatever looks right to you) on a diagonal. Place each cookie back on the baking sheet and bake again at 250° until golden brown or however crisp you like them.