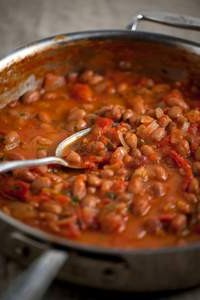 It's getting close to summer time and baked beans are always a nice addition to any BBQ! This recipe, which serves 6-8, was brought to the Pendle Hill kitchen around 1998 by Doris Calder who, with her husband John, were Friends in Residence.
3 cups of dried beans – navy, pinto, or roman
1 tsp kosher salt
2 tsp mustard powder
1 small onion, chopped medium
¼ cup dark brown sugar
½ cup table molasses
1-2 T vegetable oil
~ Soak the beans overnight. Next morning, drain and refill with fresh water covering the beans completely with an added inch or two of water. Parboil them until the skins burst when you blow on them. Drain.
~ Place the drained parboiled beans in a slightly oiled baking dish. Add the salt, mustard powder, onion, brown sugar, molasses, and vegetable oil. Cover with water and bake, covered, for several hours, until the beans are soft but not mushy, about 4 hours. As they bake, add water as needed. Uncover during the last hour of baking.
~ Enjoy!