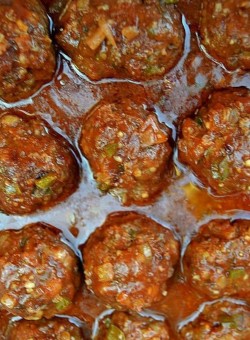 This is a regional dish from Molise, Italy. It's a wonderful vegetarian addition to any Italian-inspired meal. This recipe – which makes about 12-18 good-sized "veggieballs" – requires deep frying but it's worth dragging out the ol' FryDaddy!
Tomato Sauce
1 28oz can San Marzano whole or crushed tomatoes
4 cloves garlic
1 cup fresh basil
2 tsp salt (or to taste)
1 tsp coarse ground black pepper (or to taste)
~ Place all the sauce ingredients in a blender. Blend until a smooth puree. Set aside.
Egg & Cheese Balls
4 cups fresh bread crumbs
3 eggs
3 cups grated Romano cheese
½ tsp kosher salt
½ tsp course ground black pepper
2 cloves garlic, minced
½ cup Italian parsley, finely chopped
All-purpose flour for coating the balls
Vegetable oil for frying
~ Put the breadcrumbs, garlic, parsley, salt, and pepper in a bowl.
~ In a second bowl, big enough to eventually hold the bread crumb mixture, add the eggs and beat until frothy. Add the grated cheese and stir to combine. Slowly add the breadcrumb mixture to the egg and cheese mixture, stirring as you are mixing. Continue to mix until the mixture holds together. To test, hold a small portion of the mixture and squeeze. It should hold together nicely. If it's too dry add another beaten egg.
~ Using a ¼ cup scoop, scoop out ¼ cup portions of the mix. Place each portion on a baking sheet. Roll each into a nice round ball. Roll each ball in flour, place back on the baking sheet and refrigerate for about an hour before frying.
~ To fry: In a sturdy pot such as a Dutch oven, add enough oil to fill the pot to about ¼ of the depth of the pot. Using a frying thermometer, heat the oil to 350F. Working in batches, add about 4 balls at a time and fry until golden. Remove to a paper towel-lined baking sheet. Continue frying in batches until all the balls have been fried.
~ Place the finished egg and cheese balls in a sauce pan and cover with the sauce. Heat over medium heat and simmer for about 40 minutes until the egg and cheese balls are heated through.