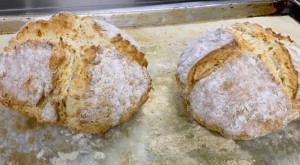 This recipe – which makes two good-sized loaves – is easy but yes, your hands will get covered in dough!
Ingredients:
7 cups all purpose, unbleached white flour
2 tsp baking soda
1 tsp kosher salt
3-3 ½ cups buttermilk
Directions:
~ Preheat the oven to 425F.
~ Line a baking sheet with parchment and lightly flour it.
~ In a large mixing bowl, place the dry ingredients. Make a well in the center and pour in 3 cups of buttermilk. Stir with your hand moving in circles until the dough comes together. If needed, add more buttermilk a little at a time. Rinse the accumulated dough from your hands, but leave them slightly wet. This will help to keep your hands clean.
~ Divide the dough in half and turn each half onto a well-floured surface. Pat each round of dough into a disc, about 7 inches in diameter and about 1 ½ inches high. Invert each disc so that the floured side is up and place on the prepared baking sheet.
~ Bake for 15 minutes. Lower the temp to 375F and bake until the bread is browned and sounds hollow when tapped on the bottom. See note below.
Note: It is helpful to use a thermometer to check the internal temperature of the loaf. A finished loaf should be about 195F when fully baked.