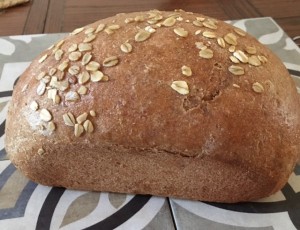 We've had a few groups asking us for our bread recipe recently, so our cooks got busy in the kitchen perfecting the steps before sharing it. This recipe uses the "Porridge Method" and makes one loaf.
Ingredients:
½ cup whole oats
~ 5 cups whole wheat flour, divided
1 T barley malt or molasses
1 T instant yeast
¼ cup safflower oil
2 tsp salt
Porridge:
The night before bread baking day:
Soak: ½ cup oats with ½ cup whole wheat flour, the barley malt or molasses with 2 cups boiling water. Stir well. Cover and let sit overnight.
The Sponge:
In the bowl of a mixer, add the overnight porridge. Add 1 cup of warm water and 1 cup of flour. Mix. Add the yeast and mix again, scraping down the sides of the bowl as necessary, about 3 minutes. It should be the consistency of pancake batter. Cover lightly.
Let the sponge rise until bubbly.
The Bread:
After the sponge is active and bubbly, mix it for a minute or two.
Add the salt and safflower oil and mix to fully incorporate.
Add 2 cups of flour and mix well for about 3 minutes. Continue adding flour a little at a time until there is only about a cup left and the dough has begun to come together.
Flour a work surface and turn the dough onto the surface. Knead the dough for 5-8 minutes, gently incorporating the rest of the flour. The dough should be soft, only slightly sticky.
Round it into a ball and place into a lightly oiled bowl. Cover and let rise until double, about 30 minutes, depending on the warmth of the workspace.
Preheat the oven to 350F. Lightly oil a bread pan.
After the dough has risen, punch it down and then shape it into a loaf. Place in the bread pan, cover lightly and let rise until double, about 30-40 minutes.
Bake the bread in the preheated oven until golden and it begins to pull away from the sides of the pan. The internal temperature will read 200F when finished.