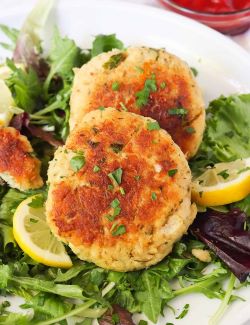 These elegant tuna burgers are protein-packed, full of flavor, crisp on the outside, and tender in the middle. Garnish with toppings of your choice for a quick and easy meal. The following recipe makes 9 decent-sized patties.
Ingredients:
3-5oz cans tuna in water
1 T lemon juice
¼ tsp black pepper
¼ tsp garlic powder
½ tsp Old Bay Seasoning (optional)
1 tsp Tabasco
½ tsp salt
1 T parsley, finely chopped
¼ cup onion, finely diced
2-3 T mayonnaise
6 T breadcrumbs
2 eggs, beaten
Directions:
~Drain the tuna and place in a mesh strainer. Give the tuna a quick rinse. Using a spoon, press the tuna into the strainer until most of the liquid is drained and the tuna is dry. Place the drained tuna in a mixing bowl.
~Add all the other ingredients and mix well.
~Divide the mixture into 9 parts. Form a ball with each and flatten to form a patty. Place on a tray lined with parchment and refrigerate for ½ hour.
~Preheat oven to 375F. Remove the tuna burgers from the refrigerator and brush with a bit of olive oil. I also like to lightly dust with Old Bay Seasoning.
~Bake for about 15 minutes. That's it! Serve on a bun of your choice with lettuce, tomato, and red onion… and maybe some tartar sauce.
Enjoy!