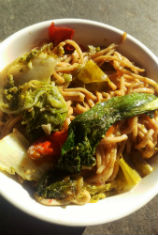 Ingredients:
1 pound lo mein noodles
2 heads bok choy, thoroughly rinsed, cut in 1-inch strips horizontally
1 cup sliced scallions or red onion
1 red pepper, in strips
1 green pepper, in strips
1 hot pepper, minced (optional)
15 medium cremini mushrooms, sliced
2 cloves of garlic, sliced
4 tablespoons sesame oil
1/8 cup soy sauce
1 teaspoon salt
1 teaspoon black pepper
1 1/2 tablespoons szechuan peppercorns (optional)
Directions:
Contains gluten, but you can substitute Tamari soy sauce for conventional sauce and rice noodles for lo mein noodle to adjust for diet. Tofu or animal protein can also be added. Boil salted water, cook lo mein 8-10 minutes, strain into colander and rinse under cold water while stirring, and let drip dry in colander. Heat large pan on medium-high heat and add sesame oil. Add onions, bok choy, mushrooms, and peppers, stirring every 30 seconds until there is little crunch left in the peppers. Add garlic, and then noodles, and continue to stir. Add soy sauce, vinegar, salt, and pepper. Serve hot, top with chopped scallions or chives. Serves 4-5.