Integrity & Wholeness: Building Sanctuary in Community with Blanca Pacheco
Blanca Pacheco, co-director of New Sanctuary Movement of Philadelphia, discusses the relationship between community care and self care, the power of laughter, and the need to elevate personal stories and wholeness in an immigration system that denies resources, rights, and humanity to people of color. Blanca shares the miracles and sacrifices of her own journey, and asks: how can we respect the integrity of ourselves amidst individualism, urgency, and unjust systems?
Listen to this episode on Apple Podcasts, Spotify, Stitcher, or wherever you get your podcasts. Click here to view the transcript for this episode and listen on your web browser.  Subscribe to The Seed wherever you get your podcasts to get episodes in your library as they're released.
To learn more about The Seed, visit https://pendlehill.org/podcast and follow @pendlehillseed on Facebook, Instagram, and Twitter.
This project is made possible by the generous support of the Thomas H. & Mary Williams Shoemaker Fund.
—-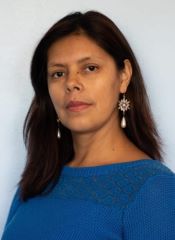 Blanca Pacheco is a passionate community organizer and a single mother with over 15 years of experience organizing with immigrant communities in Philadelphia. She is currently the Co-Director of New Sanctuary Movement, an interfaith immigrant justice organization which she helped found. Throughout her career she has worked on successful campaigns such as stopping collaboration between Philadelphia Police and ICE, and won Sanctuary campaigns with families fighting their final deportation orders. She is currently one of the leaders in the state of Pennsylvania fighting for Drivers Licenses for All regardless of Immigration Status.
Watch "Building Sanctuary Within to Build Sanctuary for Others," Blanca's Pendle Hill First Monday Lecture here.