The Legacy Circle at Pendle Hill
Make a difference for our future.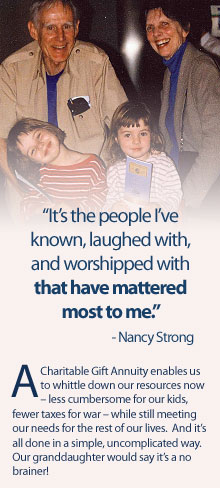 Bequests
Pendle Hill exists today because of the hundreds of supporters who remembered Pendle Hill in their wills. A bequest is the most convenient way to include Pendle Hill in your estate planning. Sample language is available upon request.
A gift of retirement benefits
Naming Pendle Hill as primary, partial, or contingent beneficiary of your retirement plan is a simple, practical gift idea. You avoid the double taxation your retirement savings would face if you designate them to your heirs.
A gift of a new or existing life insurance policy
Many people have life insurance policies which are no longer needed for their original purposes. Life insurance policies can be given to Pendle Hill and an income tax deduction can be taken for the cash surrender value. If you irrevocably make Pendle Hill the beneficiary of a new or existing life policy, the annual premiums may also be tax deductible.
An outright gift of real estate or other property
A tax deduction for the fair market value of the property is permitted up to 30% of AGI and you will avoid the capital gains tax.
Gifts that pay you income
You can receive a lifetime income, in addition to various tax benefits, from making a gift to one of our life-income plans. On the death of the income beneficiary (you and/or another person), Pendle Hill will have use of the funds to further its programs and research. Life income plans include:
A Charitable Gift Annuity
In exchange for a gift of cash or securities, we will agree to pay you a guaranteed, fixed annual income for your lifetime. This income may start now or at a later date, such as retirement. The rate of the annuity is based on the ages of the annuitants, you or another person. You will incur no immediate capital gain on the transfer of appreciated securities and part of your annuity payment will be tax-free. This program is administered by Friends Fiduciary Corporation.
A Charitable Remainder Trust
We are happy to work with you and your financial advisors to create an individual income arrangement which suits your unique circumstances. For example, you may choose a fixed or fluctuating payment, the rate of income, and many other features to suit your particular needs. You will incur no capital gain tax on the initial transfer of long-term, appreciated securities or real estate into the trust.
Creative combinations of the above gifts
For instance, life income gifts may be established through your will or living trust, giving you the flexibility to change your mind during your lifetime and yet providing a substantial charitable estate tax deduction for taxable estates.
"Pendle Hill has been in my will for quite some time. In addition, I decided that a Charitable Gift Annuity would meet my need for income while leaving Pendle Hill the remaining principal at my death." –Louise Hamel
Gifts that protect your assets
A gift of a personal residence or farm with a retained life estate
It is possible to transfer ownership of your personal residence or farm to Pendle Hill while retaining the use of the property during your lifetime. You receive an immediate income tax deduction for a portion of the appraised value of the property.
A Charitable Lead Trust
You may contribute appreciating assets to a Charitable Lead Trust and have fixed annual gifts made to Pendle Hill for a period of time. When the trust terminates, the remaining principal is paid to your heirs. The income payments to us reduce or eliminate the transfer taxes due when the principal reverts to your heirs.
You can make a secure donation below, either as a one-time gift or by becoming a sustaining donor with a recurring donation:
For additional information or to arrange a confidential gift planning consultation, without obligation, contact:
Lisa D. Diantoniis
Director of Advancement
484-234-4492, or 800-742-3150, ext. 132
ldiantoniis@pendlehill.org