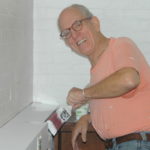 A crew of volunteers enjoyed work and fellowship at Pendle Hill, September 29 – October 1 during our annual Lives of Service Weekend. Crews painted the woodwork in the Barn Meeting Room, spread 850 linear feet of woodchips on the perimeter trail, and expanded our deer fence experiment (bamboo poles holding 3 strands of clothesline rope) to enclose all planted beds in our vegetable garden. Participants read inspirational writings to each other before each work block, shared meal times together, and enjoyed beautiful sunny days.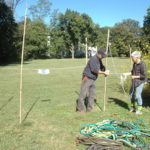 Lloyd Guindon reported, "In the process, a remarkable community formed among our small group of workers in a short period of time, and we said to each other at the end, we should do this again! And we shall." Indeed, next year's Lives of Service with Lloyd Guindon and Bob Denison is scheduled for September 28-30, 2018.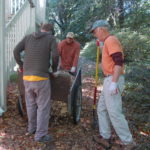 Pendle Hill also welcomed five high school students from Friends Central School for three days of service. They helped clean our worship benches and windows in the Meeting Room and Main House, spread woodchips on the trail, and helped dig a 25 foot trench for a new storm drain with oversight from Lloyd Guindon, Jerimy Pedersen, and Jerry McCourt.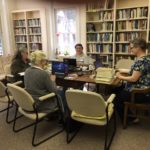 The Pendle Hill Library was the scene of a flash mob of 18 area librarians who came at the invitation of library volunteer Julie Swierczek to place bar codes in our books and to add them to our online catalog with LibraryThing. A total of 777 books were added to the online catalog thanks to their efforts, and even more books were coded. It was also a lot of fun; Julie reports that many volunteers were eager to return for another round.
This past weekend, we also welcomed the Pendle Hill Board for their October meeting. Our Board of volunteers serves Pendle Hill generously throughout the year. Pendle Hill staff and families were happy to share food and fellowship with Board members on Friday, October 20, on the eve of the Board's annual meeting.