The Pendle Hill Bookstore
As part of Pendle Hill's ongoing commitment to provide a convenient and accessible walk-in retail space for Friends and other interested individuals living in or visiting the Philadelphia region, the former Pendle Hill Bookstore reopened in January 2018 in the space previously occupied by FGC's QuakerBooks (now exclusively an online entity).
In addition to Pendle Hill publications, the Bookstore offers a variety of new and gently-used books of interest to Quakers and their friends (on such topics as Quakerism and Quaker History; Christianity; Religious Studies; Spirituality; Social Issues; Activism and Nonviolence; Prayer and Spiritual Deepening; Peace Studies; and more). We also sell sweatshirts, T-shirts, baseball caps, custom-made mugs, and other items sporting the Pendle Hill insignia. Original artwork and/or prints from featured gallery artists are often available for purchase also.
Please stop by the store the next time you're on campus, and thank you for your patronage!
---
| | | |
| --- | --- | --- |
| | Monday | CLOSED |
|   | Tuesday-Friday | 9am-4pm |
|   | Saturday | 9-10am & 12-3pm |
|   | Sunday | 9am-1pm |
Please note: These are the store's regular hours. Any changes to this schedule will be posted in advance, so please call ahead to confirm that we are open if you're planning to visit, especially on the weekend.
---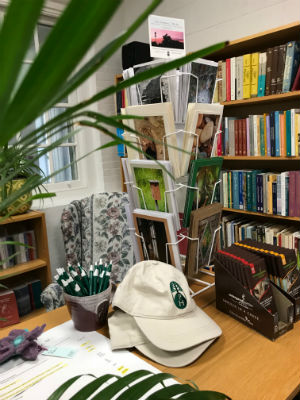 Sale Books: black dot ($2), yellow dot (as marked).
Other Discounts: 20% on all non-discounted purchases over $100. We also offer a 20% discount when you buy 10 or more Pendle Hill pamphlets (mixed titles are fine, but already discounted pamphlet sets are not included).
Special Orders: We can order any book that is in print. Most take less than a week to arrive. We will also try and obtain any out-of-print title (most likely gently-used or ex-library), but these orders can often take upwards of 2-3 weeks to arrive.
Please call 610-566-4507, ext. 124 during business hours to speak with bookstore personnel, or if you wish to place an order over the phone. We accept all major credit cards. To make a purchase outside of regular bookstore hours – or at any time – please visit our online store. You can pay with PayPal or with a credit card through PayPal Payments (you don't need a PayPal account for the latter; just follow the prompts at checkout).
If you need to contact – or have unfinished business with – the former QuakerBooks of FGC bookstore, please call 800-966-4556.
Travel directions to Pendle Hill.