The Pendle Hill Bookstore
We will be closed from 2pm on Wednesday, November 22nd through Friday, November 24th for the Thanksgiving Holiday. We will reopen at 9am on Tuesday, November 28th. Thank you.
Welcome to the Pendle Hill Bookstore! We are a small, traditional, "bricks-and-mortar" book shop that specializes in Pendle Hill publications – books, pamphlets, pamphlet sets, and pamphlet subscriptions. We also offer a limited selection of new and gently-used books of interest to Quakers and their friends. Topics in this category include Quakerism and Quaker History; Christianity; Religious Studies; Spirituality; Social Issues; Activism and Nonviolence; Prayer and Spiritual Deepening; Peace Studies; and more.
Sweatshirts, T-shirts, custom-made mugs, pens, candle holders, mobiles, and other fine items sporting the Pendle Hill insignia are also available for purchase, with original artwork and/or prints from featured gallery artists offered for sale throughout the year.
Here's what Andrew G. of Lumberton, NJ had to say about us over on Yelp:
"This tiny little bookstore is lovely, and nestled within the Pendle Hill retreat center of the Religious Society of Friends, better known as Quakers. For that reason the books sold focus primarily on the Quakers, Quakerism, and other topics that would be of interest to Quakers and other spiritual seekers. It is not a place to go and pick up the newest best-selling mystery or romance novel. If you are looking for a bookstore focusing on Quaker publications there probably isn't a better one in the country. Even if you're not looking for Quaker publications, but are looking for texts on spiritual matters this bookstore would be an excellent resource for you."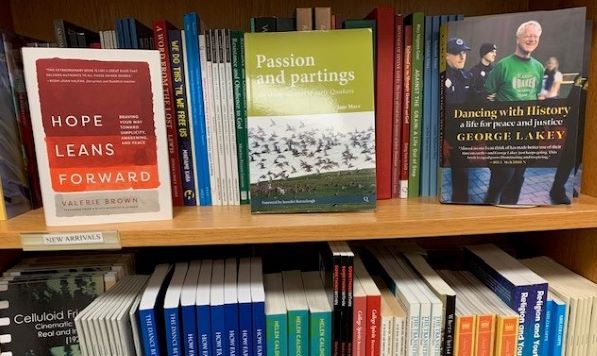 ---
July 2023 Update
The store's regular hours of operation are shown below. Any changes to this schedule will be posted here, so please check ahead of time to confirm that we are open if you are planning to visit, especially over the summer or around federal holidays (with the recent addition of Juneteenth we now observe eleven per year).
| | | |
| --- | --- | --- |
|   | TUE, WED, THU, FRI | 9am-4pm |
|   | SAT, SUN, MON | CLOSED |
Irrespective of whether the physical bookstore is open or not you can still purchase most of the items it carries from our online store – just click here.
---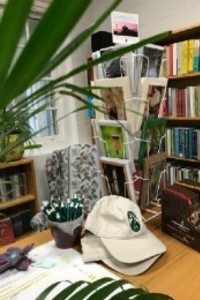 Sale Books: black dot ($1), yellow dot (as marked).
Other Discounts: 20% on all non-discounted purchases over $100. We also offer a 20% discount when you buy 10 or more Pendle Hill pamphlets (mixed titles are fine, but already discounted pamphlet sets are not included).
Special Orders: We can order any book that is in print. Most take less than a week to arrive. We will also try and obtain any out-of-print title (most likely gently-used or ex-library), but these orders can often take upwards of 2-3 weeks to arrive. Please call 610-566-4507 (or toll-free in the U.S. at 800-742-3150), ext. 124 during business hours if you wish to place an order over the phone. You can also reach us via e-mail at bookstore@pendlehill.org.
To make a purchase outside of the bookstore's regular hours – or at any time – please visit our online store. You can pay with PayPal, or with a major credit card through PayPal Payments (you don't need a PayPal account for the latter; just follow the prompts).
We strive to make our prices competitive yet fair, so we hope that you will check us out first before making a like purchase from a big box retailer – all bookstore revenues go right back into supporting our educational programming! If you are interested in consigning titles with us, or making a donation of books, please get in touch.
Travel directions to Pendle Hill. Please make sure to review our health and safety expectations at https://pendlehill.org/stay/covid-19-information/.