Dining at Pendle Hill
Eating together in community is an important part of life at Pendle Hill, a time for staff, conference guests, sojourners, and other visitors to gather in conversation and fellowship in our community dining room.
Our cooks, whose work is a ministry of love and concern, promote community well-being by serving nutritionally balanced meals with a sense of joy and good taste. Most foods, including bread and other staples, are homemade, and we make extensive use of organic fruits and vegetables from our garden. Many of our dinners are vegetarian and include protein sources from grains and beans. Other dinners include free-range meat or poultry, or fish chosen with conservation in mind. All meals include gluten free and vegetarian options.
Dining Room Hours and Reservations
Pendle Hill's signature breakfast is included with all overnight room reservations. When groups are on campus, lunch and dinner are available for an additional charge. Conferences and workshops will reserve meals on behalf of their participants, so make sure to communicate any special needs to your group leader.
Reservations are required at least one business day in advance. To make meal reservations, call (610) 566-4507, ext. 137 or contact Pendle Hill Reservations.
| | Breakfast | Lunch | Dinner/Supper |
| --- | --- | --- | --- |
| Monday – Sunday | 7:30am – 8:30am | 12pm – 1pm | 6pm – 7pm |
A Note from Our Kitchen
All meals include gluten free and vegetarian options. Vegan options are easily available with at least 24 hours' notice.
Please be aware that all foods are prepared in the same kitchen, including peanuts and flour. Pendle Hill does not have an exclusively gluten free or kosher kitchen. We invite guests with severe food allergies to alert us of their allergy and consider bringing supplemental food. Refrigerators are available in each building.
Due to our kitchen's capacity, we are unable to accommodate specialty diets but we can offer the following protein options if you alert us ahead of time: plain chicken or tofu, boiled eggs, tuna, or hummus.
If you have further questions or would like to talk with a staff person prior to your arrival, please contact info@pendlehill.org.
---
Food Philosophy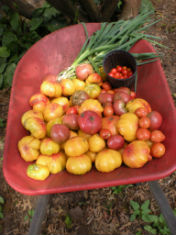 The cooks at Pendle Hill see their job as a ministry of love and concern. We try to promote good health and a sense of well being by serving meals that are nutritionally balanced, using a limited amount of processed foods, especially those containing white flour, sugar, and salt.
Small planet, finite resources
Because we see ourselves as members of a very small planet where people are hungry every day, we try to eat as low on the food chain as possible. This means limiting our use of meats, which require far more acreage to produce a given amount of protein than is the case with the production of vegetable protein foods. We enjoy exploring the wide variety of delicious vegetarian foods available; many of the meals we serve are meatless. The meat and poultry that we serve is free range, without antibiotics or hormones. We continue to seek out sources for our fish with a concern for our oceans and rivers as well as the preservation of fish species.
Cooking from scratch
We cook from scratch as much as possible, making our own bread, granola, organic yogurt and salad dressings. Organic fresh fruits and vegetables are used extensively, including seasonal offerings from our garden.
Delicious, varied meals
Dinner menus are planned by all the cooks in a meeting once a month. We rotate entrees to include fish, fowl, meat and vegetarian dishes. For those who prefer to eat only vegetarian or vegan food, an alternative dish is available for every meal as well.
---
Pendle Hill is committed to supporting a safe environment despite COVID-19. For information about all guest requirements and the COVID-19 mitigating amenities Pendle Hill offers, see our COVID-19 Information page.