Your source for inspiring Quaker insights
For almost 90 years, Pendle Hill has expanded understanding of Quaker life and witness through pamphlets and books. Each publication arises from the writer's spiritual experience, religious concern, or special knowledge of an important contemporary theme. Every Pendle Hill pamphlet ever published since 1934, and almost every Pendle Hill book, is available for purchase from our physical bookstore or through our online store.
In addition to being insightful and well-written, these materials help Friends and other interested individuals live our lives as expressions of our faith, serve our values, and learn about the Quaker way past and present.
Pendle Hill Pamphlets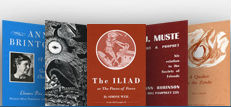 Where can you find brief, substantial writings by authors including Parker Palmer, Howard Thurman, Simone Weil, John Yungblut, Sandra Cronk, Fritz Eichenberg, Thomas Kelly, Paul Lacey, and Martin Buber? In the Pendle Hill Pamphlet series! Each of these authors has written at least one of the 475+ Pendle Hill pamphlets published to date.
Since its founding in 1930, Pendle Hill has been a center where Quaker faith is expressed in education – the education of adults for spiritually motivated service. Because spiritual experience is essential to Quakerism, Pendle Hill's education is experiential at its core. The Pendle Hill pamphlets have been an integral part of this educational vision since 1934. The pamphlets are written from the personal experience, study, and insights of the authors, concerning spiritual life, faith, and witness.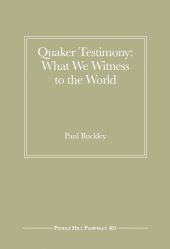 Pendle Hill currently publishes six (6) pamphlets a year, each approximately 36 pages in length. Every pamphlet ever produced is available for purchase in our walk-in bookstore and online store. We are slowly reprinting some of our older, more popular titles that have gone out-of-print, so the plain gray covers will eventually be a thing of the past!
Receive each pamphlet as it is published by ordering a subscription. We offer a 20% discount when you buy 10 or more Pendle Hill pamphlets. Mixed titles are fine, but special pamphlet sets are NOT included (since they are already discounted). Wholesale orders and other inquiries should be made via pamphlets@pendlehill.org.
Pamphlet Submissions
Are you interested in submitting a manuscript for consideration as a possible Pendle Hill pamphlet? We welcome submissions from both new and longtime authors. Please refer to our pamphlet submission guidelines to see if your manuscript meets our criteria, and be sure to follow our style sheet when preparing your manuscript. May your writing go well!
ePubs – get Pamphlets for your Kindle or Nook!
Roughly 90% of our pamphlets are available in electronic (eBook) form for Kindle (Amazon) and Nook (Barnes & Noble) e-readers. Visit the Amazon or B&N websites to see a complete list of available titles.
Pendle Hill Books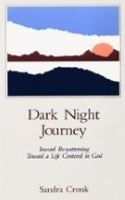 Pendle Hill has published some 60 books over the years, the majority of which are still in print and available in our walk-in bookstore as well as through our online store. We try to offer pre-owned copies of the out-of-print titles whenever possible.
Several Pendle Hill books are currently on sale, including The Quaker Reader, The Intrepid Quaker: One Man's Quest for Peace, Friends for 350 Years, and Dark Night Journey: Inward Re-Patterning Toward a Life Centered in God. Wholesale book orders and related inquiries should be made via e-mail to bookstore@pendlehill.org.
Travel directions to Pendle Hill.