Celebrating YOU!
We want to share our deep gratitude with all who contributed to Pendle Hill's 2017 – 2018 Annual Fund. We are pleased to announce that your generosity helped us exceed our goal!
Your support helps us sustain Spirit's work at Pendle Hill and plant the seed of God. Thank you for helping Pendle Hill's Light shine so brightly for all who visit this spiritual home.
WE ARE GRATEFUL FOR YOUR SUPPORT!
The Importance of Giving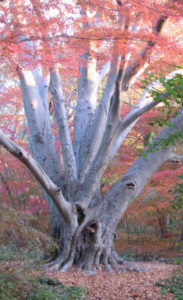 The Pendle Hill Annual Fund helps our community flourish as a vibrant, hospitable oasis where visitors refresh and recharge, scholars study and write, artists create, and a host of groups working for peace and social justice.
We asked one of our long-standing community members why it's important to support the Annual Fund. Here is what he said:
"There are 3 reasons why I give to Pendle Hill: the bench, the bell, and the beech. The bench symbolizes our tradition of faith through daily worship since 1930, the ringing bell represents our call to community through the breaking of bread together, and the 300-year-old beech represents the "welcoming committee" of trees that hold our sacred ground for all to come and do their important work."

– Lloyd Guindon, Grounds Manager
Please consider a tax-deductible gift to the Annual Fund and help us keep this center of learning, growth, and spiritual grounding strong.
Thank you!
Would you like to share Why You Give to Pendle Hill? Click here.