Preparing for Your Stay
To book an event, please contact the Conference Sales Coordinator at conferences@pendlehill.org or 610-566-4507 ext.

To make an individual reservation, book your room online.
---
Amenities
Each room is simply furnished with beds, desks, chairs, and lamps, as well as: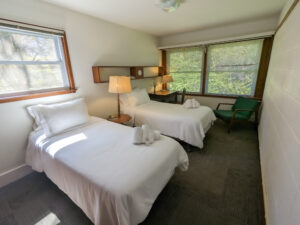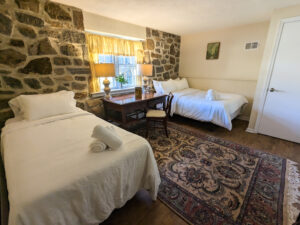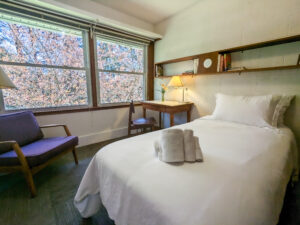 Drawer and closet space
Heat/Air conditioning
Towels and washcloths
Extra blankets
High-speed wifi
Ensuite or shared bathrooms*
All guests have access to:
Shared kitchen with refrigerator and tea station in each guest building
Laundry facilities
24-hour hospitality support
*Some rooms come with ensuite bathrooms. Others share family style (not dormitory style) bathrooms that are only a few steps from the bedroom door.
Suggested Packing List
There is a 1-mile walking trail on campus, as well as gardens and outdoor areas for you to enjoy. Please pack for your comfort, and consider bringing:
Alarm clock (digital clocks are not provided in rooms)
A reusable water bottle or thermos to help us maintain our testimonies of simplicity and sustainability
A thermometer to monitor your temperature for any changes and face masks for the duration of your stay (optional)
Comfortable walking shoes and weather-appropriate gear
A flashlight to help navigate at night
Things to Note
We endeavor to maintain a clean, comfortable, and relaxing campus. Please note that:
We are a fragrance-free campus. Please refrain from using scented grooming products, room sprays, incense, and candles.
Alcohol is not served at Pendle Hill, and its consumption is prohibited in shared and public spaces. Alcohol is permitted in individual guest rooms and private meeting spaces rented by groups.
All rooms and buildings are non-smoking. There are designated outdoor smoking areas designated by an ash tray at:

Main House back porch
Firbank back patio
Barn entrance to reception desk
Brinton House main parking lot entrance
---
Portions of Pendle Hill are wheelchair accessible. Please view our accessibility information here.
In the event that the presence of a service animal is requested, Pendle Hill follows the ADA guidelines, which state that a service animal is limited to dogs or miniature horses that are trained to do work or perform tasks for individuals with disabilities. The task(s) performed by the service animal must be directly related to the person's disability. The service animal must be on a leash, harness, or tether and under the control of the handler at all times. Per ADA guidelines, "comfort" or "emotional support animals" and service-animals-in-training do not meet the definition of a service animal. Pets are also not permitted at Pendle Hill.
Pendle Hill is committed to supporting a safe environment despite COVID-19. For information about all guest requirements and the COVID-19 mitigating amenities Pendle Hill offers, see our COVID-19 Information page.