Service Opportunities at Pendle Hill
Volunteering is a great way to serve with fellow Friends and seekers and be a part of the Pendle Hill community. We welcome volunteers of all abilities and interests.
Matching volunteer skills with Pendle Hill needs, our volunteers serve in a variety of ways for a one-time project or a regular task. Gardening, care of our grounds, cleaning/dusting, and assistance in our bookstore or kitchen are just a few possibilities.
Garden Volunteers Needed!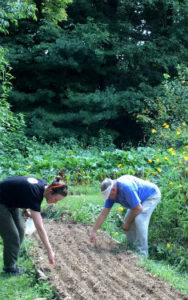 Pendle Hill is looking for volunteers to work in our garden this season!
Our half-acre, bio-intensive garden provides vegetables, fruit, and herbs to the Pendle Hill kitchen.
We are looking for volunteers interested in coming on a semi-regular basis (once a week, or once every other week). It takes time to learn the ropes in the garden, and it is great having people who know their way around! We generally welcome volunteers on Tuesdays and Thursdays between 10am and 4pm. Once volunteers are confirmed, our Cook/Gardener will communicate via e-mail for scheduling.
Read more about gardening opportunities at Pendle Hill.
Volunteer for Pendle Hill's Arts and Spirituality Program!
We are actively seeking volunteers to support the Arts and Spirituality Program at Pendle Hill. Volunteers can choose to help in many ways and with varying levels of commitment. We are seeking help with:
Posting Arts and Spirituality Program information at local venues
Cleaning and caring for equipment
Straightening and re-organizing studio supplies
Assisting with inventory of supplies
Helping to load the kilns
Helping to hang artwork with exhibiting artists
Sharpening pencils/weeding out dry markers, paints, glues, etc.
More!
To apply for any of these positions, please complete our online Volunteer Application form. We also ask that you review our Volunteer Program FAQs (frequently asked questions) before applying.