2018 Stephen G. Cary Memorial Lecturer Sarah Willie-LeBreton
Education for Beloved Community
In the Spring of 2014, historian, theologian, and long-time civil rights leader Dr. Vincent Harding gave his last public dialogue. Drawing 140 seekers to Pendle Hill from various faith traditions, Harding called on Americans to create a beloved community and real democracy together – a true "WE the people." He said there is a vital need for "co-believers, co-workers, co-strugglers, and fellow travelers wherever they are, to find spaces where they can explore questions and be prepared to transform themselves and this country as agents of healing." Vincent Harding added, "I think there's a word for us doing that, and without question, I think that the spelling of that word may be P-E-N-D-L-E-H-I-L-L."
Originally conceived as a Quaker "school for prophets," Pendle Hill today offers education programs that support members of the Religious Society of Friends and other spiritual seekers to:
Experience divine love, presence, and guidance in their lives;
Understand, serve, and challenge their faith communities; and
Work with their neighbors to foster peace, social justice, and sustainability in the wider world.
We do this with an educational approach that encourages student engagement, dialog, community, compassion, curiosity, creativity, humor, joy, insight, growth, responsibility, and faithfulness.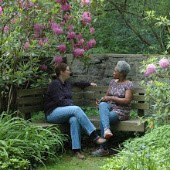 We invite you to look over our current educational offerings and consider which ones might serve you. Our offerings include a pamphlet series, lectures, special events, weekend workshops, short courses, conferences, month-long institutes, and a host of new online learning opportunities. We also offer extended individual educational residency opportunities for people wanting to do creative work while grounded in a spiritual community with a daily rhythm of worship, work, and study. Partial and full scholarships are also available for several of these programs, and most of our programs also include access to Pendle Hill's 24 ecologically diverse acres, and our remarkable Library and Arts and Crafts Studio.
For more information, contact Registration. Portions of Pendle Hill are wheelchair accessible. Please view our accessibility information here.