Pendle Hill's Origins and History
Pendle Hill was established in 1930 as a Quaker study center designed to prepare its adult students for service both in the Religious Society of Friends and in the world. The founders envisioned a new Quaker School of Social and Religious Education which would be "a vital center of spiritual culture" and "a place for training leaders." [Rufus Jones, Preliminary Announcement, 1929]
An ideal location for the new school was found in Wallingford, Pennsylvania, a dozen miles from Philadelphia, easy to reach by train and near Swarthmore College. Pendle Hill was meant to be different from existing Quaker schools or colleges, which were mainly academic. Its mission was both educational and religious: Pendle Hill was to be a school, rooted in Quaker community life, where students and staff would live according to Quaker principles and practices and where learning would be experiential as well as intellectual.
Pendle Hill had a predecessor in Quaker adult education, the Woolman School, which opened in 1915 under the care of the Advancement Committee of Friends General Conference. In 1927 the Woolman School closed for lack of students and funds. However, Caroline Norment, its acting director, and Paul Furnas, clerk of the board, had a larger vision for a new Quaker educational center and a continuation committee was appointed. A key planning meeting was held three days after the stock market crash of October 24, 1929.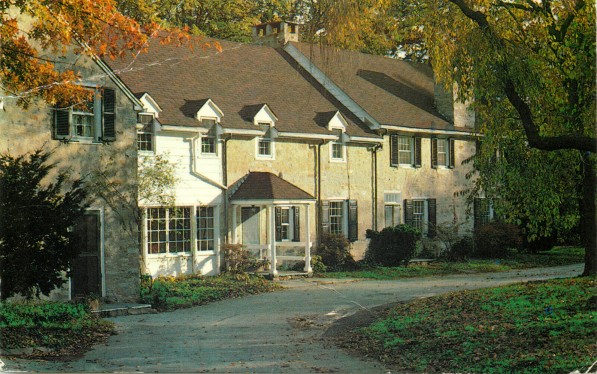 The founders of Pendle Hill included well-known Quaker spiritual leaders, teachers, and business people such as Rufus Jones of Haverford, Henry Cadbury of Bryn Mawr, William and Hannah Clothier Hull of Swarthmore, George Walton of George School and his brother, J. Barnard Walton, Agnes Tierney of Coulter Street Meeting, Germantown, and D. Robert Yarnall, who was to clerk the Board for 24 years. The first director was Henry Hodgkin, a respected British Quaker who played a large role in naming Pendle Hill after the hill climbed by George Fox, the founder of Quakerism, in 1652, from which he saw "a great people to be gathered." Henry Hodgkin wrote: "The name of Pendle Hill symbolizes the call to climb to spiritual heights through hard thinking and self-discipline…to see deeper into the meaning of life and farther out into the great world, and to come down, as did Fox from Pendle Hill, with a fresh zest for the service which reaches to 'that of God' in all…"
At first Henry Hodgkin directed recruitment efforts at recent college graduates who had some practical experience and would come to Pendle Hill to prepare for future service. In addition, some college faculty members looked to Pendle Hill as a place to live and study during their sabbaticals. Students were generally expected to stay for a year's study. At the start Pendle Hill's student body was diverse religiously and racially, and included two African Americans as well as students from several countries.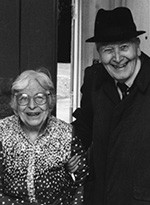 Pendle Hill opened with an excellent faculty for 1930-31, including several teachers who were on the faculty of Swarthmore, Haverford, or Bryn Mawr College: Henry Sharman (Bible), Rufus Jones (mysticism), Henry Cadbury (the Prophets), Douglas Steere and George Thomas ("Religion and the Modern World"), Ilse Forrest (religious education), Henry Hodgkin (social relations), and Clarence Pickett (Quakerism, with Henry Hodgkin). The first year was successful, with two publications resulting from group efforts, the start of the public Monday night lectures, and visits from Muriel Lester and Rabindranath Tagore.
With Henry Hodgkin's untimely death in 1933, Pendle Hill struggled to establish itself, promoting its initial purpose as it sought students, staff and other participants. Finally the Board recruited Howard and Anna Cox Brinton to serve as directors in 1936. The Brintons led Pendle Hill over the next two decades and were largely responsible for making Pendle Hill a significant Quaker resource for the Religious Society of Friends in the United States and around the world.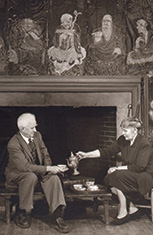 Through the leadership of the Brintons, the Pendle Hill idea took shape: Pendle Hill was a small educational community where students were expected to do serious written work, participate in meeting for worship, attend several courses, do their share of household tasks, and carry out field work away from campus. These expectations reflected the core value of an education balanced in every aspect of life: work, worship, and study. Group life – both social and religious – was seen as essential to Pendle Hill's experimental education. At the same time that this way of life was nurtured on campus, Howard and Anna Brinton and other staff traveled extensively and gave frequent presentations, carrying Pendle Hill teaching out into the world.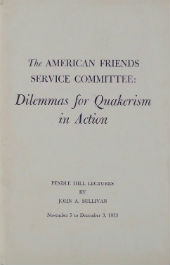 Cooperation between Pendle Hill and the American Friends Service Committee (AFSC) began in 1935. From the late 1930s through the 1940s, in the period of World War II and its aftermath, Pendle Hill sought through education and publications to work toward a just society without using violence. Pendle Hill and the AFSC cooperated to train personnel for service work around the world.
The first Pendle Hill pamphlet, Vincent Nicholson's Cooperation and Coercion as Methods of Social Change, had been published in 1934. Many of the early pamphlets focused on social problems, with authors including Richard Gregg, Kenneth Boulding, and A.J. Muste. From the start, the pamphlets were designed to be short enough to be read at a single sitting, and expressive of a religious concern. Many pamphlets were written by authors who were part of community life at Pendle Hill, and their writing benefited from group process. Howard Brinton, for example, wrote more than a dozen Pendle Hill pamphlets over the course of his tenure there.
When the Brintons retired from active leadership in the early 1950s, Dan Wilson became director. He worked with Douglas Steere, who clerked the Board, to shape the next era at Pendle Hill, continuing the aims and methods expressed by Howard Brinton and described in the Pendle Hill pamphlet, The Pendle Hill Idea (PHP #55), published in 1950. Howard continued to teach and lecture at Pendle Hill, and Howard and Anna Brinton lived at Pendle Hill until their deaths.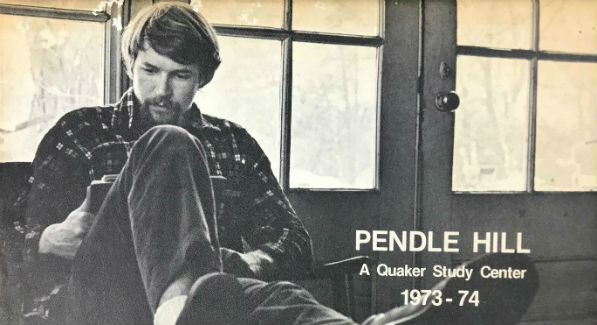 Pendle Hill continues to be a vibrant experiment in adult religious education. In 1991 Howard Brinton's understanding of the roots of Pendle Hill's program was restated as "the four basic social testimonies of Friends: equality of opportunity and respect for individuals, simplicity of the educational and material environment, harmony of inward and outward actions, community in daily life and in the seeking of the Spirit." [Bulletin (catalog) 382:1991] Despite many changes since 1930, Pendle Hill thrives as an "educational experiment, grounded in the spiritual and social principles of Friends – a community centered in the daily meeting for worship and sharing a common life of study, work, recreation, and mutual care and concern for one another." [Bulletin 325 (catalog):1982]
Travel directions to Pendle Hill.