Visit Our Campus for a Tour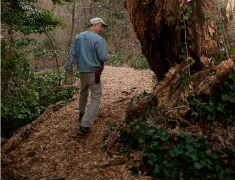 Tours of Pendle Hill's historic buildings and beautiful grounds can be arranged for groups of 5-20 persons. A mile-long perimeter path wends its way through two dozen bucolic acres with over 140 species of trees and shrubs. The campus includes 19 buildings which have housed the rich history of Pendle Hill's eight decades of Quaker witness, educational experiment, and spiritual community.
Minimum number of tour participants: 5
Maximum: 20
$12/person or $10/person for 10 or more participants
60-90 minutes (plus optional lunch – make reservations when you arrange your tour)
Tours will be cancelled in the event of rain.
Before or after touring our grounds and buildings, enjoy a delicious Pendle Hill farm-to-table meal with us! To make arrangements for yourself or for your group, e-mail Pendle Hill Reservations or call 610-566-4507 or 800-742-3150, ext. 137.
Pendle Hill, 338 Plush Mill Road, Wallingford, PA 19086-6023
Travel directions to Pendle Hill.