Powerful Faith-Based Organizing for Climate Justice ~ June 16-19, 2016
A conference for inspiration, education, networking, and action.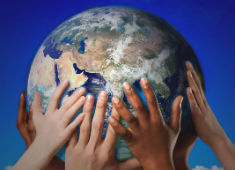 > Click to register or call 610-566-4507, ext. 137 <
Financial aid is available to assist registrants. Call John Meyer at 610-566-4507, ext. 129, or e-mail him at jmeyer@pendlehill.org to request assistance.
The program will begin with registration between 3:30pm-6:00pm on Thursday, June 16, followed by dinner at 6:00pm and opening plenary at 7:15pm. The program will end with lunch on Sunday from 12 noon to 1pm
---
The call to climate justice and protecting Earth as our common home is a paramount moral challenge of our time. Pope Francis, the Dalai Lama, and other world religious leaders have raised their voices to proclaim the urgency of addressing climate disruption. More and more people of faith are responding to the climate crisis with action – from community organizing to solarize neighborhoods, to lobbying state government to forestall fracking, to engaging in nonviolent direct action to halt building of the Keystone XL pipeline. Skillful strategic actions in these areas complement each other and strengthen the movement for climate justice.
Ready to build your skills for climate justice? Join us June 16-19 for a three-day conference to enhance the power of people of faith to meet the challenge of climate disruption. Beginning with multifaith worship on Thursday evening, we will use plenaries, workshops, and interest groups on Friday and Saturday to deepen our capacity to work with others effectively in three skill areas:
constructive community resilience building;
formulating and carrying out strategic nonviolent direct action campaigns; and
lobbying and moral advocacy in the public sphere.
On Sunday, we will connect our themes and close with a circle of commitment to pledge our next faithful steps to achieve climate justice.
Please review the following track options before you register (click on the track heading for more details). Upon registration, we will ask you to select the track in which you are led to enroll, and also to pose a question for Bill McKibben to respond to in his videotaped message to the conference.
Track 1: Community-Based Resilience Building
Track 2: Strategic Nonviolent Direct Action
Track 3: Lobbying and Moral Advocacy
In this workshop series, we will focus on pragmatic approaches to healthy climate change adaptation that take into account the interplay of physical, emotional, psychological, and spiritual resilience-building. Highly interactive exercises and activities facilitate learning and discovery.
In this workshop series, we will focus on challenging institutions that threaten the planet while staying grounded in love.  We will develop the strategic skills to identify and implement a strategic climate justice campaign, which is both effective and reflective of our values.
In this workshop series, we will explore and practice (1) lobbying, reframed as a moral conversation, and (2) non-traditional advocacy at the local government level to ensure that people can govern their own communities and act as stewards of the environment.
Lead Trainer/Facilitator
Pamela Boyce Simms
Lead Trainer/Facilitator
Eileen Flanagan
Lead Trainer/Facilitator
Paula Kline
Registration Fees: Costs include all program offerings and most meals as outlined below. Commuter price does not include overnight room and board.
For a private room and all meals, $685.00; For a shared room and all meals, $575.00; Commuter price, including dinner Thursday, lunch and dinner Friday and Saturday, and lunch Sunday, $375.00
Financial aid is available to assist registrants. Call John Meyer at 610-566-4507, ext. 129, or e-mail him at jmeyer@pendlehill.org to request assistance.
Travel directions to Pendle Hill. Click to view the flyer.