Pendle Hill Stories (cont.)
"The Friends approach to life and how we live, embodied [here] at Pendle Hill, has been a source of inspiration and guidance. Thank you."
— Patricia Heras, Retreats, 2007 and 2008
"My name is Cathy Gaskill, and I am a Quaker Storyteller, which is an oxymoron. Quakers were known for always telling the truth. So since I think I am not a moron, I tell true stories. This is a true story.
When I was a student at Swarthmore College I would sometimes walk over to Pendle Hill for some event. A group were relaxing in the Pendle Hill living room when Anna Brinton came storming in and slammed a carton of cigarettes down on the piano. She said "There! Whoever smokes, take these. I have just been to a W.C.T.U. meeting and those women were so self-righteous I couldn't stand it. I could not bring myself to go out and buy a bottle of liquor, so I bought these instead!!!" I remember as a small child, in perhaps 1934 or 5 or whenever Pendle Hill was founded, going with my parents Esther Balderson Jones and Tom Jones to visit the Brintons in their new home at Pendle Hill. I was also glad to be at Westtown with a daughter of the Brintons."
— Cathy Gaskill, 10/27/2012
"An evening party was planned at the end of the course. Wood fire in the fireplace made us warm. We were about to raise beer toast. Then a young man ran up the stairs. Nobody knew why. A woman stepped up the stairs. She came down after a while and said, "He can't drink that company's beer, because he is in protest against the company's discrimination to the workers." Then somebody said, "Let's stop the beer and return them to the store." We called the young man. A happy talk started again. "Action starts with an inward Action." This is what I learned then and still remember."
— Mamoru Hitomi, who came for a week course in the summer of 1975
"I was the youngest of 4 brothers and 2 sisters all of whom worked with the American Friends Service Committee during or after WWII. The Brintons thought I was the youngest relief worker AFSC ever sent overseas (mechanic & truck driver). I spent most of my time at Pendle Hill teaching driving to other relief workers who were applying for international driver's licenses. One of my students stepped on the gas instead of the break (sic.) and backed into a big tree near the front door of "the barn" at Pendle Hill. When I returned from AFSC work in Poland 13 months later, there was my mark on that tree and 30 years later is was still there! I always said many famous people had left their mark at Pendle Hill – Eleanor Roosevelt and Albert Einstein, et al. My "mark" was on that tree!!"
— A.J.G., WWII Relief Worker
"It was my only visit to Pendle Hill – a silent weekend many years ago. I was used to silence, but the combination of silence and being involved in tasks was a very educational combination for me. It was in the 80s. I wasn't one to just pick up and do things. I asked a lot of questions. I liked to know how things were to be done. But now, you couldn't ask the questions. Then I saw this girl. She was walking across the campus with such authority and a sense of peace and purpose. And I thought, 'If she can do it, I can do it.' And that weekend, I didn't need to ask all those questions. We did chores together, and we just did what we needed to do – and it got done! And at the end of the weekend, we sat down to dinner and talked about our experiences. I talked to that girl who I first saw walking across the campus, and I told her how I saw her and that I thought, 'If she can do it, I can do it.' She laughed and said to me, 'I had no idea what I was doing!' We laughed about it together. I will always remember that weekend fondly."
— Karyen Morrill, sometime in the 1980s
"I arrived in Pendle Hill on the eve of the Iraq War, having lived many years in the UK and feeling out of touch with my birth US citizenship. In such a fraught time it was an inspiration and reassurance to be among a peaceful but action-taking people. The daily meeting for worship (where I first experienced people singing their ministry sometimes), the workdays (with popcorn), the garden estate, the classes and conversations with teachers and community folk, the art room, even seeing the seasons display in the plants – all made for a memorable year. I am very grateful."
— Joan Harris, Sabbatical Study, January 2003-March 2004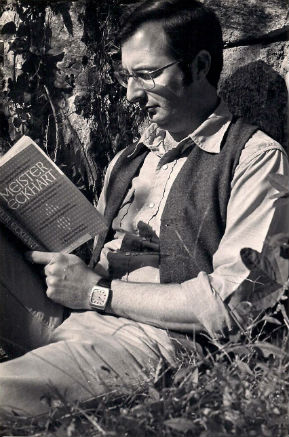 "My journey to Pendle Hill probably began when I was a high school student southern Texas in the late 1950's. I was frustrated that I didn't understand the basic beliefs of small town Presbyterianism. The situation didn't improve much when I went to the university. The usual institutions – a larger Presbyterian church, the glad-handing Campus Crusaders for Christ – no one was interested in discussing and exploring matters of the Spirit. For me, the only "spirits" I met lived in the rum & Coke to lubricate dating and socializing.
After graduate work in communications and attitude change, I joined the U.S. Information Agency in 1967, and eight months of training later (which included an intensive course in modern Greek) l found myself with my wife on a plane to Athens, anticipating that at last I'd found a journey that would offer Adventure and Discovery. Falling in with a group of politically liberal young Greek artists and intellectuals who forced me to improve my classroom Greek, it was impossible not to be frequently stimulated and challenged. And living amidst the marble remnants of a great civilization, I excelled – even though I was also aware that there was much in my profession with which I did not agree.
In 1971, I transferred to Cyprus where I learned that life could be downright dangerous. A 1974 internal coup on the island nation, followed by an invasion of mainland Turkey's land, sea and air forces taught me not just the sight of Death, but its smells, near misses and wrenching losses. In the first of a dozen riots at our embassy facilities over the next year, our exceptionally wise and kind Ambassador and a Greek Cypriot embassy staffer were assassinated. Wives and families were quickly evacuated to Beirut, but as the Embassy's only remaining Greek speaker, translating for the Ambassador and briefing the visiting press, I stayed.
These events – which took our full attention and energy took place against a backdrop of the Watergate impeachment hearings, the resignation of "Tricky Dick" Nixon, and the evacuation of Americans from Saigon. Beginning to wonder whether I could honestly represent the country that paid me, I asked at the end of my Cyprus tour for a two-year leave-without-pay sabbatical to think things over. Only 33 years old, I knew I was on the verge of moral and physical "burnout." My musician-conductor wife accepted a job as head of the music departments of Haverford and Bryn Mawr Colleges, and in the summer of 1975, we flew into Philadelphia and took the Main Line train to Ardmore."
— David Grimland, Resident Student, 1976
"I was writing a book on the Wekiva River and Florida's history of protecting the river, with nature writing in the style of Walt Whitman. Reading Slaughter's biography of the Bartram's, I sense a spiritual connection between the early Quaker botanist and the NY urban poet (whose mother was a Quaker). I wanted to write an essay for the book that would connect wild Florida with the ecology inherent in Whitman. At the retreat I was stuck by the intentional outreach of Quakerism and the vitality of its peace and social concerns. My new found faith was greatly strengthened by the experience and I found a unique manuscript of William Bartram which confirmed my thesis for the essay. God was leading me to write the book, to become a Quaker voice, and to study the life and work of William Bartram. It was a supremely rich experience."
— Steve Phelan, researching William Bartram and Quaker Quest, late 1990s/early 2000s
"Deeply rich experience, unforgettable. I got to know June (Yungblut), too, and she presented me with a book of her poetry, which is still on my shelf, and still inspires me when I pick it up, I loved her.
Some years later, I spent a week alone at Pendle Hill, walking in the woods, meditation silently, attending meeting every day –each day a deeper, richer experience.
I helped in the kitchen, too, preparing vegetables and maybe washing a dish or two.
When I left, it reduced my week's fees because of my help there – where my little jobs were a valuable contribution to the week's worship."
— Sonja Krummel, Retreating with John and June Yungblut
"In 1951 I had been 3 years in USMC and graduated college. My GI Bill sent me to School of Social Work, University of Pennsylvania. 4 members of class were Friends, two converted and two converts. Dorothy Day of the Catholic Worker had a seminar at Pendle we all attended.

Place was a pause for friendship; I was enthralled with the "Friend" ship.

Dorothy returned I think in 54 or 55. I attended about 4 or 5 weekends at Pendle, each utterly refreshing. Thank you."
— Karl J. Parrish, some weekends, 1952-60
"My most memorable visit to Pendle Hill involved a workshop given by William Underbaggage, a Lakota (Sioux) from Pine Ridge Reservation in South Dakota. We foraged the area near the organic garden for materials and William led us in building a sweat lodge – an unforgettable experience in itself. Then on two consecutive evenings, he led our small group in a "sweat," all of us sitting cross legged with our heads and back bowed under the low, bent saplings that formed the lodge.
Large stones had been heating in a fire pit just outside the entrance, and one by one, at William's direction, a helper sent them into the pit in the center of the lodge. The hiss and heat of the stones when William poured water on them soon brought the temperature to near unbearable, but everyone stayed. From where I sat at the back of the lodge, I could see William's silhouette against the pitch black night each time he opened the flap for another stone – illuminated by the fire pit outside, his long black hair and naked torso kept transporting me back to another time and place.
But the thing that I remember most, the thing that moved me to tears and left me unable to make a meaningful response, was when he started the circle of vocal messages with an apology – for any wrongs his people may have done.
— Ginny Davis, Southampton, PA, William Underbaggage workshop
The Tide at Pendle Hill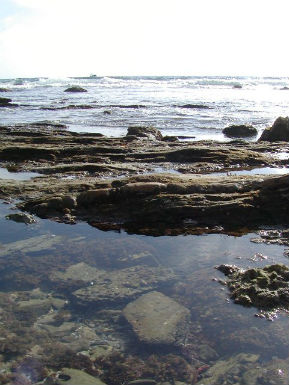 Have you felt the tide at Pendle Hill?
It's regular, but not announced by bell.
No moon, but here an inner mass
effecting movement over the vast
distances of our inattention,
tugging on the heart and mind.
Can you sense its fall and rise,
now a settled stillness,
now a marked awareness?
The trees can feel it,
as they reach upward and sink their roots,
responding to the tidal messages
given to them in their silent worship,
rising and descending
with none of our striving,
ministering to and eldering us
through our fearful hesitancies.
— John deValcourt, Friend in Residence, February 2011
"Pendle Hill gave me my legs back. I came to Pendle Hill as a wayward twenty-something, in between meaningless work and the big leap to seminary, knowing I was moving into circles I did not understand, would never really understand. Pendle Hill gave me my first re-introduction into a life in the Spirit I knew as a child, and forgot in the vicissitudes of maturing.

The course "What Canst Thou Say?" brought me back. I read Woolman, Fox, and others. And I watched as Cadbury Scholar Lucy McIver danced ministry in the Meeting House. I held both of these together, the words of dead men and the still fury of Lucy's body as she hovered over the floor.

Her movement gave life to the words, the felt sense of prophecy in the body.

And I did it. As a child, I danced. I danced in the yard, in the living room, on my bed. I danced in the day. I danced in the night. And I forgot it, got embarrassed, got numb to the love running through my body.

For our final piece for the class, we had the opportunity to share our faiths. Many read, a few sang. I danced. I chose two Harry Connick Jr. songs—"It Had to be You," and "We Are in Love." I asked the class to gather on the back porch, the slate stone porch of Firbank that was so much like my childhood home, and danced my love song dances to God, with the witness of my fellow travelers with me.

It was at Pendle Hill, in 1997 when I first came as a student, and subsequent times I lived there—summer 1999 as a summer staff, 2001-2002 as a Social Action Social Witness Intern—that the life of the Spirit lived side by side with the life of the body, and both lived well together. Pendle Hill was, and is, a powerful container for the work of our shared and disparate god, and I am deeply grateful for how Pendle Hill gave me my legs, my awe, and my lived faith back from a place where it was threatening to hide, for the duration. I could not thrive without these things, and to this day the community at Pendle Hill holds for me some of the key pieces to the life and work I seek and know is out there, waiting to be discovered."
— Victoria Pearson, Resident Student, 1997-2002 and forever thereafter
"I was at Pendle Hill as resident student for a term, accompanied by my son Stanley, who was then 9. We had a wonderful time but sometimes it's nice to have some time away from everyone so I booked us in at the hermitage hut for a night's stay away adventure. We would make a fire and hang out and not have to worry about disturbing other people, which can be an issue when you've got a child living amongst people who love silence and study.
We weren't sure what we would do about dinner but the ever practical Stanley came up with a great suggestion – to order a delivery pizza. I don't think the pizza company had had an order before to deliver to 'the hermitage in the woods at Pendle Hill' but they managed to find us and we had a fine feast.
I guess people don't generally use the hermitage for a family party but it was perfect for us and remains a good memory among many of our time at Pendle Hill."
— Rosie Carnell, George Gorman scholar, January – March 2001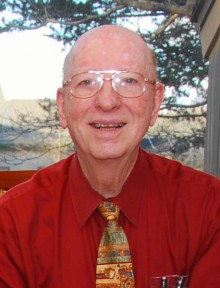 "I have been at Pendle Hill many times over the past twenty years for programs and meetings. Not surprisingly, (my special memory) dates from one of my earlier visits, although I can't recall exactly when it was.
I was late, that night, for the evening meal, and I was loading my tray with the last leftovers, the door to the kitchen swung open and someone held it briefly – just long enough for me to see a person standing at a sink scrubbing pots and pans. He looked very concentrated on the task. For a moment, I wondered why he seemed familiar. Then I recognized Dan Seeger. He had visited our meeting in Minnesota some time before that – just after becoming director at Pendle Hill.
The glimpse of the director of a major institution quietly doing his stint of kitchen duty has stayed with me because it spoke so eloquently to the spirit of the place. Of course it also said a lot about Dan, whom I got to know better and to respect ever more deeply as the years passed. The place, the man, and the spirit of service will always remain connected in my memory."
— Rhoda Gilman
"Thanks to a visit in Feb. 1985 to see my friend Tannisse Brown (student f-w-s 1984-85) I decided to take what turned out to be a sabbatical from 25 years of work.
The time at Pendle Hill with 3 years off allowed me to recover from work burnout and renew a spiritual core to my life.
Thank you Pendle Hill!"
— David R. Bruner, workshop participant, 1986
"My years at Pendle Hill were joyful, full of learning, and changed my life's attitudes for the better. I am grateful to all the friends I made there. It was an outstanding part of my life."
— Irene Ramsay, Resident Student/Staff Member, 1979-97
"When I attended the workshop on Kado – the way of flowers, with Marcia Shibata (?) we had our daytimes in Brinton House. Each morning we'd arrive, and the lovely smell of fresh flowers greeted us. We started with a time of meditation then began to arrange the flowers, according to Marcia's instructions. We'd spend an hour, or maybe two, studying and working with the flowers until they were arranged in the most pleasing manner. Although it was work, it didn't feel like work. The white lilies, with their fragrance, added so much to our experience.

Marcia included such spirituality with her teaching! My whole time was lovely, and left me with a deep appreciation for Ikebana and "the way of flowers." I was touched by the workshop and continue to have a love of flowers and flower arranging and for Pendle Hill's role in that!"
— Karen A. Reagan, weekend workshop, 2000
Pendle Hill, Pennsylvania, 1987
So you've come here
to this clearing where
god has been sighted,
connections have been made.
Here, they said, the angels landed
time after time, and left
blessings and surprises.
The middle of your life
stretches, a dark wood,
sideways, forward, backward, but you
turn inward, climb Mt. Pisgah,
and look up. Here history
with its dark freight
is only connection and only up. The dead
are just as real to god
as anyone else. Attention
must be paid.
Sit and wait. Messengers
all around you, look. Wrinkled,
plaintive, crabby, squawking,
just like you, but they
cleared spaces in their lives,
and wait in these open junctions
unprotected, souls in the wind.
You copy their attitude.
Other messengers, the tree,
try to tell you something
in sign language, but their letters
stay blurred, and can't be read.
The trees continue to hold
the fragile February sky
as though their stances matter,
like the curves of a Greek Vase.
When you leave, you still
don't know where you are
north or south, or where
you've been. The only message
you found came in hieroglyphics,
and you must wait
for dreams to weave it
deep into your life.
— Faith Williams, a poem written 25 years after sojourning at Pendle Hill