Arts & Spirituality at Pendle Hill
The Art Studio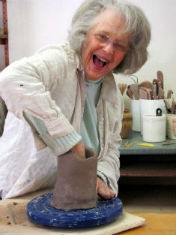 Invite the inner artist in you to awaken and flourish during your time at Pendle Hill. Explorations in the arts – with clay, paint, handmade paper, and more – provide a deepening experience for the soul which is beyond words.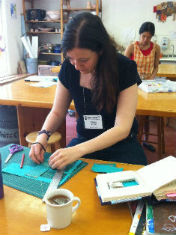 3
Many visitors, including those with little to no experience with visual art, find the studio to be a "home" where they can reconnect with God and claim their own creative path.
The studio space and art supplies are available to everyone at Pendle Hill. Please consider making a donation when you use the space.
Woodworking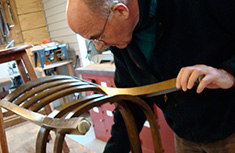 Pendle Hill has a well-equipped woodshop. For more than ten years staff, students, and volunteers have restored the furniture which adorns the guest rooms and common spaces on campus. Furniture restoration provides an opportunity to conserve, use, and acquire skills, and give old pieces new life.
Gallery Exhibits
The gallery space in the Barn and the Tree Rooms of Main House frequently hold changing exhibits featuring artists whose work often reflects themes of spirituality, peace, and justice.
​
Pendle Hill Chorus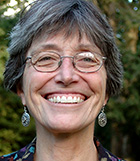 If you ever wondered if singing in a chorus would be fun, but were nervous about an audition, the Pendle Hill Chorus is for you!
The Pendle Hill Chorus is a community chorus which draws singers from across the tri-state area. Singing since 1993, our repertoire is challenging yet accessible, and includes sacred and secular music from around the world. All are welcome regardless of musical or choral experience. No audition is required – only a willingness to commit to learning the music and to creating a beautiful sound with one another at weekly rehearsals.
For more information about the Chorus, please visit this page or contact:
Jackie Coren, director: jackie.coren@gmail.com, cell: 215-292-9204
Joan Broadfield, manager: broadfieldje@gmail.com
Volunteer for Pendle Hill's Arts and Spirituality Program!
We are actively seeking volunteers to support the Arts and Spirituality Program at Pendle Hill. Volunteers can choose to help in many ways and with varying levels of commitment. Please contact Melissa Bennett, Registrar & Volunteer Coordinator, at mbennett@pendlehill.org to sign up! We are seeking help with:
Posting Arts and Spirituality Program information at local venues
Cleaning and caring for equipment
Straightening and re-organizing studio supplies
Assisting with inventory of supplies
Helping to load the kilns
Helping to hang artwork with exhibiting artists
Sharpening pencils/weeding out dry markers, paints, glues, etc.
More!
Upcoming Arts and Spirituality Program Offerings
For a complete list of upcoming A&S programs, click here.
Travel directions to Pendle Hill.