Garden Volunteers Needed!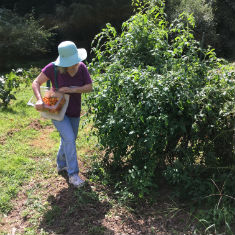 Our half-acre, bio-intensive garden provides vegetables, fruit, and herbs to the Pendle Hill kitchen. We are looking for volunteers interested in coming on a semi-regular basis (once a week, or once every other week) to help tend it. It takes time to learn the ropes in the garden, and it is great having people who know their way around! We generally welcome volunteers on Tuesdays and Thursdays between 10am and 4pm. Once volunteers are confirmed, our Cook/Gardener Lucia Kearney will communicate via e-mail for scheduling.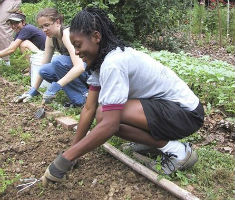 Some gardening experience is preferred, but not a requirement; we will provide guidance and instruction as needed. Possible tasks include seeding, transplanting, weeding, watering, spreading (manure, compost, mulch, straw), and harvesting. Some tasks are more physically demanding, but there are plenty of ways of helping; work at the pace that feels good and healthy to you!
Requirements: Attention to detail and ability to follow instructions is a must. It breaks Lucia's heart when seedlings get ripped up instead of weeds. Be ready to get down and dirty. Wear clothes that you're willing to ruin, and close-toed, sturdy shoes. Make sure to bring water, especially when it gets hot. A hat and sunscreen are recommended, as well.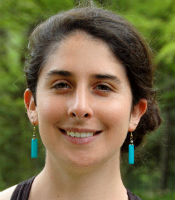 Benefits: Volunteers are welcome to excess produce based on availability. Volunteers who work for three hours are also entitled to a free lunch at Pendle Hill that day.
We work hard in the garden, but we have plenty of fun doing it and would love to welcome you to our crew!
If you have further questions about volunteering in the garden, please contact Lucia at lkearney@pendlehill.org.