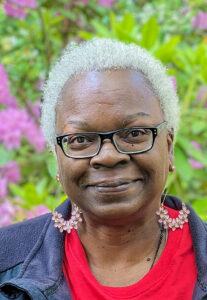 Cassandra Israel (she/her), a practicing Friend for more than twenty-five years, believes that Silence is God's chosen language and that one uncovers a pathway for interpreting this tongue by listening deeply.  For her, listening manifests itself in different realms: One can hear the voice of the Divine through songs, words and the absence of sound.
While at Pendle Hill. Cassandra will focus on sharing with others her interpretations about how we connect with the Creator, using Negro Spirituals and creative writing as a vehicle for illuminating scripture and the texts of Friends.  By underscoring the importance of examining and retelling sacred stories through these lenses, her intent is to leave the reader with a heightened capacity to commune with the Light.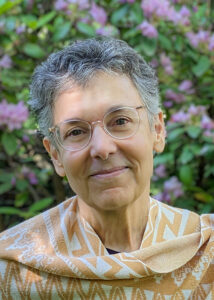 Shulamith Clearbridge is a member of Swarthmore Meeting near Pendle Hill. She is a writer and interfaith spiritual director, and has taught lectio divina and "Experiment with Light" workshops for Pendle Hill. Through her lifetime, she has worked as an actor, a classical soprano, and a medical intuitive and energy work practitioner. Her first book, published in 1995, was her M.Div thesis: Finding God: Prayers & Spiritual Practices from Many Traditions. Other books include the recent Pendle Hill Pamphlet Plain Talk about Dying: the Spiritual Effects of Taking My Father Off Life Support (PHP #479). Shulamith has written numerous articles, both serious and humorous, for journals, newsletters, and newspapers. Her unpublished work includes screenplays, short stories, poetry, and songs. She has lived in the Philadelphia area since 2021, preceded by Vermont, New Zealand, the Olympic Peninsula, Canada, Seattle, and Chicago.
Of her project, she writes, "I want to bring the marvelous words of Margaret Fell to modern Quakers. Margaret is often called the Mother of Quakerism. Her home, Swarthmore Hall, was the hub of Quaker life in England. Some years after Margaret's husband died, she married George Fox. Her writing is not well known though she wrote the very first Quaker peace statement, which was subsequently signed by Fox and a group of male Quakers, and widely distributed. I am updating Margaret's language, explaining obscure references, and making her words gender-neutral, including references to God. Her original words will be included in the book. While I'm here, her goal is to complete the Introduction and first chapter, which are needed by the prospective publisher before we have a contract. To do that, I need to fully structure the book and settle on its tone."
---
If you're interested in learning more about Scholarship and Residency opportunities at Pendle Hill, you can read more here, or contact admissions@pendlehill.org for more information.