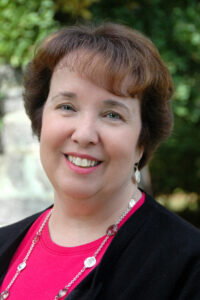 I began my Pendle Hill adventure in September 2013. While I had heard of Quakers, and knew they were an important part of our history, I didn't have experience with this world of silence and deep worship. As a longtime resident of Delaware County, I was surprised that I had never heard of this Quaker retreat center hidden on 24 acres in Delco. I had been a stay-at-home mom for 18 years and wasn't sure anyone would want to hire me after so long out of the workforce. Thankfully, at least one of the three on the search committee (my first glimpse into Quaker process) felt I was worth the risk.
I started in the Registration Office, part time, and was quickly introduced to the radical hospitality offered by Pendle Hill. As a few years passed and I gained more experience, I started helping in Conference Services. After some time doing the paperwork for this department, and working in Registration, I felt ready to apply for the Conference Services Coordinator position when way opened.
My ten years on staff have been filled with so much joy, laughter, and delight, as well as some hardship, heartache, and much appreciation. I've been fortunate enough to have met the most amazing people from around the world, many of whom were at the forefront working for social justice. This would never have happened if I hadn't been working at Pendle Hill. I've also had the privilege of being part of planning thousands of retreats, with both Quaker and non-Quaker organizations. I'm grateful that they trusted me, and Pendle Hill, to take care of them and provide a safe place for their important work. Many of the people I have worked with at these organizations I consider to be friends, and will miss very much.
More importantly, I have been blessed to work with a community of truly wonderful colleagues, and that is what I will miss the most. I've been overwhelmed by their kindness, generosity, brilliance, humor, creativity, care, empathy, patience and understanding. I've experienced all of this with f(F)riends currently on staff, and many I've known who have left for other adventures in life. They kindly helped me as I stumbled through Quaker ways of doing business (I've since been clerk of the staff for many meetings and have gotten the hang of "waiting worship"), gently guided me when I needed to see another viewpoint, made me feel appreciated when work felt so hard, cheered with me at the joys in my life and supported me through difficult times and loss. My family was always warmly welcomed for staff events and when they stopped by for a visit or to have lunch in my office. All of these moments and more, mean so much to me.
I will retire this fall after my 10-year anniversary and training my replacement. The blessings I've received from Pendle Hill are too numerous for me to list and I thank you, the reader, for bearing with me as I tried to share some of them. My heart is full with the memories I have and I will be forever grateful.
With Love and Light,
Betsy Spina
Conference Sales Coordinator