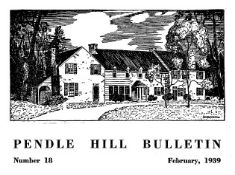 It's February 1939 and Pendle Hill was moving into its 9th year of operations. What was it like to be in a course being led by Howard Brinton, Douglas Steere, Henry Cadbury, or Rufus Jones? Imagine sitting in one of Pendle Hill's meeting rooms discussing "Moral Power in Politics," "The Nature of Freedom," or "The Human Factor in Social Change." Ideas relevant then are also relevant today. Pendle Hill has always invited dialogue on issues of justice and peace.
Then…
Pendle Hill Bulletin 1939
Pendle Hill distributed numerous bulletins with a short history of Pendle Hill and current course offerings. Click here to take a look at this bulletin from February 1939 and see the programs being offered.
Now…
January 2016
Seventy-seven years later and Pendle Hill remains a spiritual center for social action. One of the courses from 1939 was "The Nature of Freedom" which focused on the study of the nature of effective freedom. This spring, the "Beyond Crime and Punishment: Fostering Transformative Justice in Community" conference speaks somewhat to this issue of how we can establish humane and life-sustaining alternatives to mass incarceration. Seeking "effective freedom" goes on today. Click here to join us March 10-13 at the "Beyond Crime and Punishment" conference.