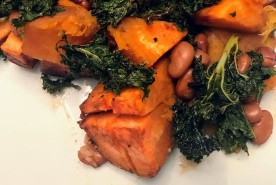 Pendle Hill's cooks are amazingly creative in using fresh, local ingredients to prepare delicious meals for you! Read more for a recipe that is perfect for a cold wintery day, but simple enough to whip up at a moment's notice. The beans have a gingery maple glaze and the sweet potatoes and kale make it a tasty and nutritious meal.
Serves 4-6 people
Ingredients:
2 cups Pinto Beans (or any bean you prefer)
Half an Onion
Clove of Garlic
1/4 cup Mustard
1/4 cup Ketchup
1/4 cup Molasses
1/4 cup Tamari
2 Tablespoons Ginger
Maple Syrup to taste
2 Sweet Potatoes
Large Bunch Kale
Soak the beans overnight and then cook them in water until soft (roughly an hour). While the beans are cooking, wash and slice the sweet potatoes into thin half moons, toss in oil, salt, and pepper, and roast in a hot oven (400 degrees or more). Wash the kale and pull bite-sized pieces off from the stem.
Cut the onion into thin slices and saute in oil with the diced garlic until soft and fragrant. Add the mustard, ketchup, molasses, tamari, ginger, and maple syrup. Stir in the cooked beans and let simmer at least half an hour. Add the sweet potatoes and kale and cook until the kale is tender but not mushy.