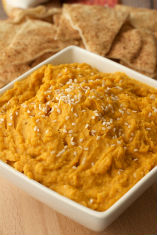 Ingredients:
(500 g) butternut squash
(250 g) cream cheese
salt
powdered chili
pumpkin oil
olive oil
Instructions:
Peel butternut squash and cut into pieces. Sprinkle them with salt, chili. and olive oil and arrange onto a baking tray lined with parchment paper. Preheat oven to 356F. Bake until butternut softens. Using blender, puree the squash. Combine it with cream cheese. Adjust seasoning. Serve sprinkled with some pumpkin oil and baked tortilla chips or on toast.