"Before coming back to cook at Pendle Hill in 2019, I was a vendor at a small town farmers market in Northern California selling a variety of my own prepared foods and baked goods. Freshly-made banana bread was one of the mainstays I offered weekly. Here at Pendle Hill, we now provide this version as one of our morning refreshments to our guests." —Carol S., Dining Services Manager
Makes 2 loaves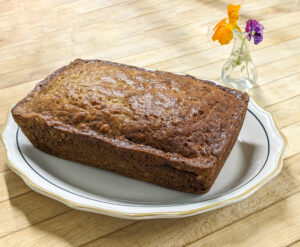 Ingredients:
4 very ripe bananas
1 ½ cups orange juice
1 cup butter, melted and cooled
1 cup brown sugar
1 cup granulated sugar
4 eggs, beaten
1 tsp vanilla extract
5 cups all-purpose flour
2 tsp baking soda
1 tsp baking powder
2 tsp cinnamon
1 tsp salt
1 cup of crushed walnuts (optional)
Procedure
Pre heat oven to 350°
Butter two standard sized bread pans
In a large bowl add the bananas and the orange juice. Using a potato masher, mash until somewhat smooth. Add the eggs, sugars, vanilla and butter and mix well. Stir in the walnuts if using.
In another bowl add the dry ingredients: flour, baking powder and baking soda, cinnamon, and salt. Stir together.
Add the dry ingredients to the wet ingredients and stir until full incorporated.
Divide the batter into the prepared pans. Bake for about 1 hour or until a toothpick inserted into the top of each bread comes out clean. I usually check after 45 minutes and continue to bake the full hour if needed.
Enjoy!