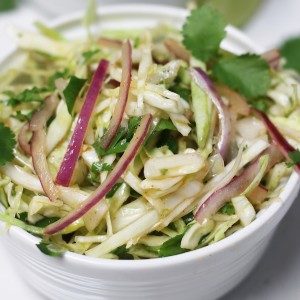 Also known as Mexican coleslaw, this fresh, flavorful, and mayonnaise-free side dish goes great with tacos or shrimp burritos. It's an easy-to-prepare, 3-step recipe that yields 8 generous servings.
Ingredients:
14 oz thinly sliced/shredded red or green cabbage
Salt
1/3 red onion, cut into thin strips
½ cup cilantro, chopped
1/3 cup olive oil
1/3 cup lime juice
1 teaspoon sugar
½ teaspoon ground cumin
¼ teaspoon ground garlic
½ teaspoon salt
¼ teaspoon pepper
Directions:
Place shredded cabbage in a colander inside a bowl. Sprinkle with 1 teaspoon of salt and let sit for 1 hour in order to draw excess water out of the cabbage.
In a mason jar, mix olive oil, lime juice, sugar, cumin, garlic, salt, and pepper. Shake well to make the dressing for the coleslaw.
After the cabbage has sat for an hour, mix the cabbage with the diced onion and cilantro in a large bowl. Add dressing, mix well, and serve.