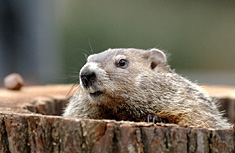 A family recipe from Lloyd Guindon, Pendle Hill's groundskeeper for 25 years. It took some of us a long time to realize that this thick sausage gravy has nothing to do with groundhogs, but is named after the meat – ground hog (if you use pork). Serves 6.
1 lb. seasoned bulk sausage or ground beef
1 onion, chopped
2 cups milk
¼ cup flour
1 teaspoon each marjoram, sage
½ -1 teaspoon salt
½ teaspoon pepper
"Mom always required that we eat our first waffle with gravy before moving to the maple syrup and I had no problem with this rule." –Lloyd Guindon
Sauté the sausage, adding the onion towards the end. Drain off fat. Heat the milk in microwave or double boiler until hot. Whisk the flour into a little of the milk until it makes a smooth paste. Whisk this into the milk. Add the spices, sausage, and onion.
Serve with biscuits, baked potatoes, or (traditional in the Guindon family) waffles.