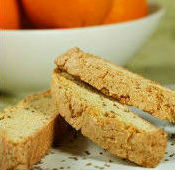 Former cook Katie Maley created this marvelous biscotti, which positively bursts with orange and anise flavor! She baked it several times for Pendle Hill's guests, and it was always a huge hit.
Gather the ingredients:
1 stick butter (8 ounces)
7/8 cup sugar
1/2 tbsp vanilla extract
2 eggs, plus one egg white for wash
2 cups flour
1 1/4 tsp baking powder
1/2 tsp salt
1 tbsp anise
zest of 2 oranges
1 cup toasted slivered almonds.
~ Cream together the butter and sugar. Add the vanilla and eggs one at a time.
~ In a separate bowl combine the flour, baking powder, salt, orange zest, and anise. Stir in the toasted slivered almonds.
~ Add the dry ingredients to the wet ingredients. Form into two logs, each about three inches wide. Place on a lightly greased sheet pan. Brush with the lightly beaten egg white.
~ Bake for 25 minutes at 300° F. Let cool for a few minutes, then slice into 1/2 inch pieces. Place cut side down on the sheet pan and bake for an additional 15-20 minutes. The biscotti should be somewhat dry; adjust the baking time as needed. Enjoy!