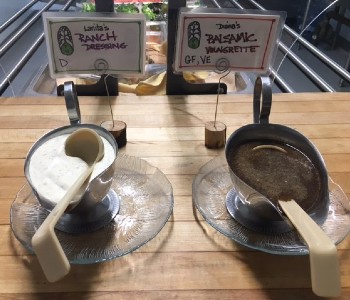 We are the Pendle Hill house dressings… and we're proud of it!
LaNita's Ranch Dressing
Makes about 2 cups
Ingredients:
1 2/3 cups mayonnaise
½ cup sour cream
¼ cup milk or buttermilk
¼ cup apple cider vinegar
1 tsp dried chives
1 tsp dried parsley
1 tsp dried dill weed
½ tsp granulated garlic
½ tsp onion powder
¼ tsp salt
¼ tsp black pepper
~ Place the mayonnaise, sour cream, milk or buttermilk, and cider vinegar in a large bowl and stir thoroughly. Add the remaining ingredients and continue to stir well. Refrigerate for at least an hour before serving.
Diana's Balsamic Vinaigrette
Makes about 4 cups
Ingredients:
8 cloves garlic, crushed
1 T Dijon mustard
2 cups olive oil
½ tsp salt
¼ tsp course ground black pepper
2/3 – 1 cup balsamic vinegar
~ In a large bowl, whisk the garlic with the Dijon. Continue whisking and slowly drizzle in the olive oil. Add salt and pepper and continue to whisk while slowly adding the balsamic vinegar. Adjust for taste.