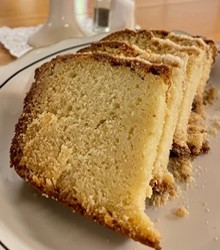 Sour cream is the do-it-all, extra-Southern ingredient that gives this classic coffee cake a soft, tender crumb and brings decadent moisture to a loaf that can tend towards dryness. Sour cream also helps to balance out the sweetness of the cake, adding a subtle tang that offsets the sugar and the butter.
Pre-heat the oven to 350 degrees.
Lightly butter a 9×13-inch pan.
For the cake:
3 cups flour
2 cups sugar
4 large eggs
3 tsp baking powder
3 tsp baking soda
1 tsp salt
2 cups sour cream
1 cup butter, melted
For the topping:
1/3 cup sugar
2/3 cup flour
1/3 cup butter, softened
To make the topping:
~ Stir together the flour and sugar. Cut the butter into the flour mixture until particles are well coated and about the size of peas. Set aside.
To make the cake:
~ Sift together the flour, sugar, baking powder, baking soda, and salt. In a separate bowl, combine the sour cream and eggs. Mix well. Add the butter, mix again. Stir the wet ingredient mixture into the flour mixture and stir to combine. Pour into the prepared pan. Top with the topping mix.
~ Bake for about 45 minutes or until a toothpick comes out clean.