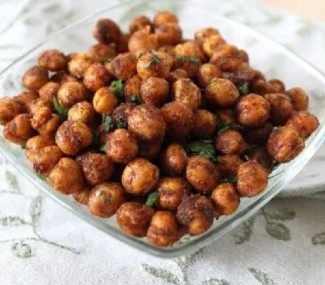 Pendle Hill Cook Alex Evenson recently prepared this tasty vegan and gluten-free dish. It can be eaten as part of a hearty, Mediterranean-inspired salad containing a choice of whole grains, leafy greens, raw/roasted vegetables, dried fruit, nuts, and/or seeds, and topped with Tahini dressing. The following recipe yields four generous servings.
Did you know?
"Don't throw out chickpea liquid, either from canned beans or from cooking the bean! It is called aquafaba, a thick liquid containing a mix of starch and trace amounts of protein, with emulsifying, binding, and thickening properties. It works well as a flavorless, odorless egg replacer in recipes: 1T of aquafaba = 1 egg yolk, 2T = 1 egg white, and 3T = 1 one whole egg. It can also be whipped to replace the eggs in meringues or mayonnaise." —Harvard T.H. Chan School of Public Health
Ingredients:
2 (15 oz.) cans chickpeas
1T olive oil
1/2 tsp. garlic salt
1/4 tsp. chili powder
1/4 tsp. cumin
1/4 tsp. salt
1/4 tsp. black pepper
1/8 tsp. cayenne pepper
1-2T brown sugar
Directions:
Preheat oven to 425 degrees. Rinse and drain chickpeas; dry well on paper towels.
Place chickpeas on a lightly greased baking sheet and bake for 10 minutes. Remove pan from oven and shake. Return to oven for another 10 minutes.
Meanwhile, combine seasonings and brown sugar in a small bowl.
Remove chickpeas from oven and drizzle with olive oil. Sprinkle with spices and shake pan again to coat chickpeas with olive oil and seasonings.
Return to oven and bake chickpeas for another 10-15 minutes, or until chickpeas are browned and very crunchy.