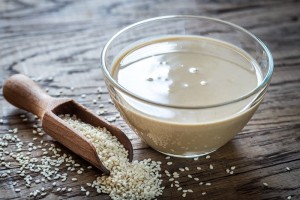 Tahini is toasted sesame seeds that are then ground, similar to the concept of peanut butter. Tahini adds creaminess and rich flavor to hummus, baba ghanoush, and more. It is also nutritionally dense in heart-healthy fats, phosphorus, and magnesium. Tahini is easier to digest and absorb than whole sesame seeds due to the seed's outer layer, or hull.
You can use this recipe as a salad dressing, veggie dip, toast topping, sandwich condiment… the possibilities are endless! This recipe yields approximately 1 quart of dressing.
Ingredients:
2 cups tahini (sesame seed paste)
2 cups water
1/3 cup lemon juice
1/3 cup Soy Sauce (or tamari to make it gluten free)
1 tsp maple syrup
2 garlic cloves, minced
3/4 tsp cumin
1/4 tsp cayenne (optional)
Directions:
Whisk tahini and water together in large bowl;
Add remaining ingredients and mix well;
Store in a mason jar quart container or other container with a tight lid. Shake well before using and use within 1-2 weeks.