25,000 Thanks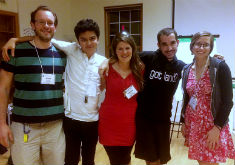 Thanks and Gratitude to everyone for a great show of support during our fall Annual Fund 2-to-1 $25,000 Challenge! With your help, we exceeded the goal required to meet the match by raising $19,127 from new and Sustaining Donors for a total of $44,127 in Challenge contributions to the Annual Fund! Thank you!
Thanks also to our loyal, continuing donors who make year-end gifts to Pendle Hill. Everyone's support and participation makes our community what it is. Your generosity to Pendle Hill helps us sustain our programs, spaces, grounds, spiritual activism, and community.
If you haven't already, please consider a gift to the Annual Fund … you can make a difference.
For additional information or to arrange a confidential gift planning consultation without obligation, contact:
Anne Harper
Director of Advancement
484-234-4488, or 800-742-3159, ext. 151
aharper@pendlehill.org