Here are just a few of the many ways we serve the Religious Society of Friends:
As we have for the past 88 years, we begin every day with Meeting for Worship, where staff and guests are frequently joined by neighbors and friends from nearby communities.
Our annual clerking workshop with Arthur Larrabee is always filled to capacity with rising clerks from around the country. Next summer, in conjunction with Philadelphia Yearly Meeting, we will offer a Quaker Skills Institute to further strengthen Friends' capacity for serving their faith communities.
Every June, dozens of Young Adult Friends convene here for Continuing Revolution, a conference on issues of particular concern to Quakers aged 18 to 35. Pendle Hill is also the site where Quaker Voluntary Service was originally planned and where their newly-placed volunteers come for orientation.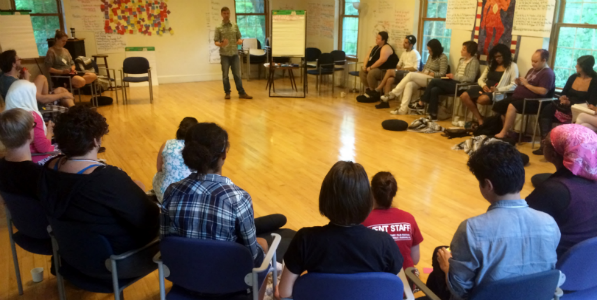 Quaker scholars, like Madeline Ward, Jeff Dudiak, Pamela Boyce Simms, and Chuck Fager, are supported here as they undertake research and writing that contributes to greater understanding of Quaker faith and practice.
We publish six Pendle Hill Pamphlets every year on a range of topics of interest to Quakers and useful for adult religious education programs and discussion groups. The Kendal Corporation (of Quaker retirement centers) brings its Leadership Fellows here each Spring to worship and explore Quakerism.
The Board of Friends Journal, Quaker Earthcare Witness, the Quaker United Nations Office, and Friends World Committee for Consultation are among the many Quaker organizations that choose to meet at Pendle Hill. Local area meetings also come here for retreats, as do Quaker students from Haverford and Swarthmore. Students from Friends Schools come visit to explore and do community service work.
Friends Council on Education regularly brings to campus such groups of Quaker educators as Educators New to Quakerism, Early Childhood Educators, and educators in "Spirited Practice and Renewed Courage (SPARC)," a multi-year leadership program based on principles developed by Parker J. Palmer.
The Quaker Religious Education Collaborative meets here, too, and we regularly include in our curriculum training for Quaker educators and First Day School teachers in "Playing in the Light: Godly Play®/Faith & Play™ Training for Quakers."
Please support the Pendle Hill Annual Fund. Your gift helps strengthen our Quaker roots, allowing us to branch out and serve many in spirit-led work creating peace and justice.
Thank you.