Pendle Hill is delighted to welcome back two long-established roles to residence on our campus for the first time since the COVID pandemic: the Kenneth L. Carroll scholar, who undertakes a project related to the study of the Bible and Quaker faith and practice towards the development and nurturance of Quaker meetings; and two Friends in Residence from Britain Yearly Meeting, re-starting a longstanding partnership between Pendle Hill and British Friends.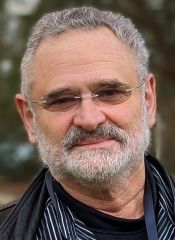 Benigno Sánchez-Eppler (Carroll Scholar) worshiped with Quakers for the first time in 1981 in Cambridge, England and soon became a member of the Religious Society of Friends at Homewood Friends in Baltimore Yearly Meeting in the mid 1980s. During the 1990s he joined Northampton Monthly Meeting and worked with Friends in Cuba and New England to create a sister yearly meeting relationship that is still going strong.
Benigno has traveled in the ministry among Friends in Cuba, Peru, Bolivia, Central America, US Pacific Northwest, Rwanda, and Ireland. He has served as clerk of his monthly meeting and more than once as recording clerk both for Northampton Friends and NEYM. He led the Bible Half-hours at the Sessions of NEYM in 2007, and at the FGC Gathering in 2008 and 2021. He teaches at Amherst College, and at the Cuban Quaker Peace Institute of Cuba Yearly Meeting.
Together with Susan Furry he is a founding co-editor and translator for www.raicescuaqueras.org, an on-line library of Quaker classics in Spanish. Three decades of work as interpreter and translator for the Friends World Committee for Consultation led to his service as Co-Clerk and Field Elder for the 2014 Quaker Youth Pilgrimage in Peru and Bolivia, and to his work as Clerk for FWCC Section of the Americas between 2015 and 2019.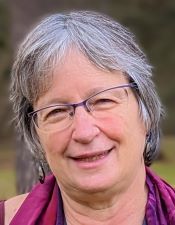 Karen Sánchez-Eppler grew up in a secular Jewish family, but began attending a Quaker school in New York City at age eight. Her experiences in silent worship gradually came to shape her ways of being in the world. After graduation from Friends Seminary, she regularly attended Quaker Meetings in Bennington Vermont and Cambridge England. As Karen and Benigno began to make a life together they found in the amplitude of Quaker worship a space where Benigno's Christian roots and Karen's Jewish legacies could dwell in spirit together. They both joined the Religious Society of Friends in 1985, becoming members of Homewood Meeting in Baltimore. There, while studying for their PhDs, they lived for three years in the sexton's cottage of the Friends Burial Ground, supporting burials, holding shared events for the two Baltimore Meetings, and hosting a mid-week meeting for worship.
A professor of 19th century American literature and culture at Amherst College, Karen has published books on the literature of the abolitionist and feminist movements, on the role of children in American culture, and on the poet Emily Dickinson. She has long served on the boards of the Emily Dickinson Museum and the Porter-Phelps-Huntington Museum, an historic house museum where she has led a reinterpretation initiative to shift the focus of the Museum from the family who owned this 1752 farmstead, to the many people – enslaved, indentured, and hired workers – who labored on this site. During her time at Pendle Hill she will be working both on these Museum reinterpretation initiatives and on a childhood studies project, In the Archives of Childhood, centered in materials produced by 19th century children.
Since moving to Amherst, Massachusetts Karen and Benigno started attending Mount Toby Monthly meeting and were among the founding members of Northampton Friends Meeting. Karen has been particularly engaged with Northampton Friends Pastoral Care, Worship and Ministry, and Youth Concerns committees, and has long served on the Youth Ministries Committee of New England Yearly Meeting, often as its clerk. She has also served New England Yearly Meeting as a recording clerk, and in the processes of reimagining NEYM staffing structures. Karen and Benigno's two children grew up in NEYM youth programs and their continued engagement with Friends ministries makes parental hearts sing.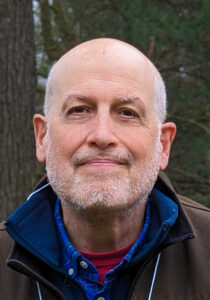 Chris Stern (Carroll Scholar) Chris was born while his parents were on the staff at Pendle Hill. His dad, Lee, was in charge of maintenance, and his mom, Ruth, was the Head Resident who helped both students and visitors to feel at home here. When he was about a year old, his family moved to Canada to join a new Quaker community. The community did not work out as planned and they returned to the US. Chris spent the next 13 years living at the headquarters of the Fellowship of Reconciliation in Nyack, NY, where his parents had similar roles to those at Pendle Hill. Chris returned to the Philadelphia area in 1977-78 to study music (the Double Bass) at Temple University. During that time, he made many visits to Pendle Hill to see his sister who was working as a cook here and also enjoyed some PH jazz jam sessions,  playing along with some of the resident staff and students.
Chris returned to PH as a student for the 1982-83 Fall and Winter terms. He came to study Quakerism with Lewis Benson, a self-taught scholar, researcher, and lecturer on the writings of George Fox and other Early Friends. Chris also studied the Bible and Quakerism with Sandra Cronk and took courses with Bill Taber. It was a very deep and life-changing experience. Instead of returning to music studies,  Chris devoted the next ten years to traveling in the ministry among Friends, working for spiritual renewal.This ministry was all volunteer work which he subsidized with many different part time jobs.
Recognizing the need for a better and more fulfilling way to support himself and his new family, he started working with people with different abilities, first working with adults and later with children. Along the way he obtained a M.Ed in Special Education, Principal K-12 Certification, and Special Education Supervisory Certification. He was married in 1990 at Middletown Meeting (Delaware County, PA) and lives in Media with his wife Verona. They have two children (now adults.) Chris is a member of Middletown Meeting and continues to  find a lot of support and encouragement for ministry there. He has just retired from Special Education after 35 years and is returning once again to Pendle Hill. This time he has come to work on a writing project as a Kenneth Carroll Scholar.
Chris' hope during this upcoming term is to look through, and spend time reflecting on, the many writings, letters, and journals of his experiences, encompassing both Quaker ministry and his Special Education working career. He hopes that his writing project will be more practical than theological. The focus will be on his experiences of God's grace and the Living Presence of Christ in many different ways and places throughout his life. He wants his work to encourage others on their spiritual journeys. The draft title for this work is, "We Cannot Do It on Our Own."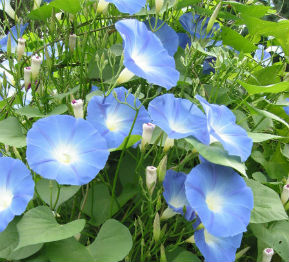 Matt Rosen (Cadbury Scholar) is a member of Britain Yearly Meeting and a PhD candidate in philosophy at the University of Oxford. At Oxford, he teaches the philosophy of art, ethics, and the history of philosophy. He has written about the philosophy of time, the nature of suffering, love for strangers, pacifism, empathy, and speculative fiction. He is currently serving as an elder in Oxford Meeting and helps to organize the local Young Friends worship group. He is thrilled to have an opportunity to spend some time this spring with Friends at Pendle Hill, and to learn from you all.
While among Friends at Pendle Hill, Matt will be thinking about the role of astonishment and openness to surprise in Quaker practices of discernment. His doctoral research focuses on how literature can reveal inexplicable and difficult realities. Books can turn us toward our treatment of non-human animals, the mortality of friends, or the kindness of strangers. He thinks we can learn about discernment by attending to literature's capacity to testify to the astonishing. Quaker methods of decision-making, like the practices of reading and writing that interest him, emphasize an openness to being caught off guard by what others may express; in discernment, this is an openness to what others may express of the divine will as they perceive it. This attitude links our communal decision-making and worship. He is especially keen to think more about how receptiveness to epiphany and possible transformation might bear on Quaker models of moral and spiritual education. He hopes this will help him to share with Friends the connection he sees between his Quaker faith and his everyday life in education.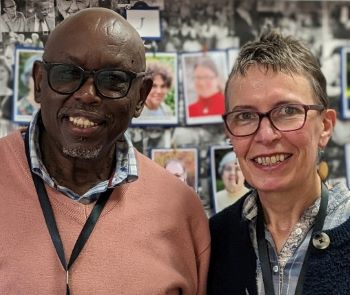 Nim Njuguna and Liz Njuguna-Wyatt are both members of London West Area Meeting, attending Harrow Meeting since 2010.
Nim Njuguna is a retired Baptist minister and former Quaker prison chaplain/restorative justice trainer. He has taught spiritual direction courses at the London Centre for Spirituality and tutored courses on spiritual accompaniment and racial justice at Woodbrooke Quaker Study Centre. He recently served on the Quaker World Relations Committee. He has contributed articles to the Friends Quarterly, The Friend, and Quaker Religious Thought ("Quaker Youth Ministry and Theopraxis in a Multicultural Context"). Enlarging the Tent, a book co-authored with a Friend based on conversations after the murder of George Floyd, will be available in 2023.
Nim collects African art, books, and films. He enjoys engaging in dialogue on issues of social justice, liberation theologies, and the meaning of global citizenship.
Liz has served as a Quaker Life Council representative sharing and receiving with Friends across British Yearly Meeting. Before joining Quakers, she did a formative training course in Spiritual Direction and continues to accompany those seeking to reflect and explore their daily living within their relationship with the Divine. She recently retired from teaching English for Speakers of Other Languages (ESOL) and teacher education at a further education college in London, working with asylum-seekers, refugees, and recently settled people from many different countries. Liz is a member of two book groups and also enjoys Pilates, cycling, and walking. She is keen to develop her knowledge and skills for preserving a range of fruit and vegetables for food security. After her time at Pendle Hill, she shared her reflections as she departed for Kenya with Nim.
Nim and Liz are now involved with activities related to food security and community empowerment in Mbaruk near Nakuru in Kenya. They're building on activities begun over 20 years ago and the vision includes an art centre, community open space, and retreat centre. Nim and Liz have two daughters who both live in London.