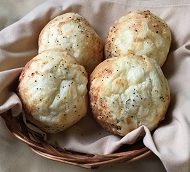 Homebound? What a great opportunity to bake. Engage the family – kids of all ages can help in various parts of this recipe. Then fill your house with the smell of baking challah and enjoy this treat from our chef, Carol Sciarra. This recipe whips up about 20 3-ounce rolls.
Ingredients:
2 T instant yeast*
1 cup milk
1 cup warm water
2 eggs
3T vegetable oil
3T sugar
1T salt
6 cups unbleached white flour
2 cups finely shredded cheddar cheese
½ cup minced green onion
1 egg, beaten to use as a glaze
Coarse black pepper
Some finely shredded cheddar cheese for the top of each roll
To make the challah dough:
In the bowl of a stand mixer, add the milk, eggs, oil, sugar and salt.
Mix well. Add half the flour and the yeast. Mix.
Add the rest of the flour a little at a time until the dough comes together. Mix for about a minute. The dough will be soft and clean the sides of the mixing bowl.
Cover the mixing bowl and let rise until double in volume.
After the first rising, mix in the cheddar cheese and the green onion.
Mix well, cover the bowl and let rise a second time.
When the dough has risen, turn on the mixer to deflate the dough, then turn dough onto a lightly floured work surface.
Preheat the oven to 375 degrees.
Divide the dough into quarters; then divide each quarter into five equal pieces.
Round each piece into a small roll and place on a baking sheet lined with parchment. Cover and let them rise in a warm place for about 20-30 minutes.
When ready to bake, brush the top of each roll with the beaten egg, place a small mound of cheddar on the top of each roll, and "dust" with a bit of the black pepper.
Bake for about 12- 15 minutes until they are golden brown.
Notes:
*I now use instant yeast in all my baking; it does not have to be proofed in warm water.